Maple Leaf Sports and Entertainment (MLSE) has banned four men in connection with a "FHRITP" prank broadcast from a Toronto FC game on Sunday.
MLSE is enforcing a ban of at least one year on the four men, two of whom are Toronto FC season ticket holders. The Toronto Star has identified two of the men as Ryan Hart and Shawn Simoes.
The news follows a Star report that MLSE was scanning security video of the live hit by CityNews reporter Shauna Hunt. She confronted a group of men after one of them yelled "f*** her right in the p****" live on-air, mimicking a video that has spread online in recent years.
MLSE was trying to identify a man wearing a BMO shirt, and another wearing aviator sunglasses.
In the video, Hunt can be seen interviewing one soccer fan before another individual leans in and utters the lewd phrase.
She then interviews a group of men who were standing by and laughing.
A man wearing aviators tells Hunt, "Where else are you going to do it?" He then looks at the camera and asks, "Are you actually filming this?"
Hunt explains that she's tired of hearing the vulgar phrase, then the man in aviators appears to agree, saying, "I'm sick of it."
The video then jumps and finds the man saying, "It has nothing to do with you, it has everything to do with everyone else."
A man identified as Hydro One employee Shawn Simoes later chimes in and says, "I don't care, I think it's f***ing hilarious."
He tells Hunt that his mother would "die laughing eventually" at the phrase and that the prank has spread worldwide.
"You're lucky there's not a f***ing vibrator near here, because in England, it happened all the time, it's f***ing amazing and I respect it all the time."
News of the ban came one day after Simoes was fired from his job at the Ontario hydro company, where he earned more than $100,000 last year.
Hydro One CEO Carmine Marcello blasted Simoes' comments as "reprehensible" in an interview with The National Post on Wednesday.
"This was not a grey line. He clearly went too far," he said.
Asked whether Simoes is "free to speak his mind," Marcello said he's "sure" that he is. But added that "there's also a level of common decency that we all expect."
"It's clear that this behaviour did not fit with who we are as a company and we took appropriate action," he said.
Employment law specialist Howard Levitt told CTV News that it's legal to fire people who have been caught carrying out sexist behaviour, as on the CityNews broadcast.
"It sends a message that what you do in what you think is your private life, has everything to do with whether you're going to keep your job or not," he said.
Another lawyer, Muneeza Sheikh, agreed that it was fair to fire Simoes.
"Generally speaking, if you're going to terminate an employee on the spot for misconduct, that misconduct has to be fairly egregious," she said.
"I think there [are] a lot of people who are going to agree with me when I say, 'I think it meets that test.'"
Politicians including Justice Minister Peter MacKay, NDP Leader Thomas Mulcair and Liberal Leader Justin Trudeau have also all weighed in on the video, praising Hunt for querying the men about their actions.
"No journalist, or anyone else, should have to face such despicable treatment," Mulcair said in a Facebook post.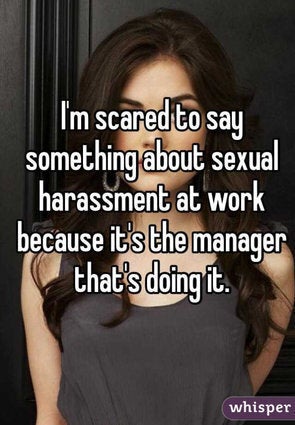 Tales Of Sexual Harassment At Work