Whale watchers in the waters between B.C. and Washington state were treated to an awe-inspiring encounter with a humpback earlier this month.
Heather MacIntyre, a photographer with a biology background, was working with Legacy Charters when she captured footage (watch above) of the "incredible" experience on May 9.
A whale known as Windy swam right up to the vessel in Haro Strait near Patos Island, and stayed there for almost an hour.
"We even started waving to her because she would continually roll to the side so that she could look up at us," MacIntyre told The Huffington Post B.C. "After we started waving, in return she would wave her six-foot long pectoral fin or fluke."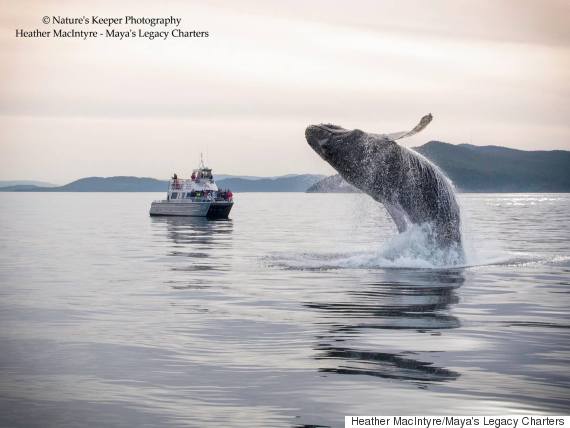 Windy also appeared to enjoy "exhaling" on the group — coming so close that a tourist's phone was blown off the selfie stick she was using to take photos, said MacIntyre.
"Can you see us? Are you saying hi?" she can be heard saying in one video. "No, no, don't blow. No, no!"
The boat was more than 180 metres away from the whale — well within the distance set by the U.S. Marine Mammal Protection Act — when it headed towards the vessel, said MacIntyre. Starting the motor to move out of the humpback's path could have hurt the animal, so the boat waited for her to pass.
"My hope is that this footage will inspire people to learn more about these amazing mammals and the threats they face," MacIntyre added.
Humpback Whale Encounter Off Patos Island, Wash.