VANCOUVER - She was found unconscious on sidewalks and transit buses. Once, paramedics pulled her from a basement with a 14-year-old friend who was naked and covered in blood. A police officer warned she may be hurt or killed while drunk.
These are just a few of the horrific incidents documented by a report examining the life and death of Paige, a 19-year-old legally blind aboriginal girl who overdosed in Vancouver's Downtown Eastside.
Social workers who were supposed to protect her did nothing to help, revealing a broken system that casually disregards the needs of aboriginal children, says British Columbia's representative for children and youth.
"Paige's files are rife with examples of situations in which workers seemed to throw up their hands and declare: 'What can we do?' rather than doing everything that was in their power," Mary Ellen Turpel-Lafond said in the report.
"If a parent in B.C. had treated their child the way the system treated Paige, we may be having a debate over criminal responsibility. Yet there appears to be systemic resistance to naming this problem."
Paige's aunt, Frances Robson, and uncle Lorne shook with tears after Turpel-Lafond finished delivering the scathing report at a news conference Thursday.
Robson said it was painful to hear new details of her niece's troubled life.
"It was just hard seeing her picture up there," said Robson. "When you see her there and you see that she's actually gone, that was the hardest part."
She and her husband tried several times to get custody of their niece, but were rejected when they asked for money to pay for a two-bedroom apartment and groceries, Robson said.
Paige, whose last name is not revealed in the report, died in a washroom in a city park in April 2013.
The report describes her as a bright young girl who loved animals and was eager to learn, despite her chaotic life. Her mother struggled with substance abuse and moved her more than 50 times to different homeless shelters and hotels.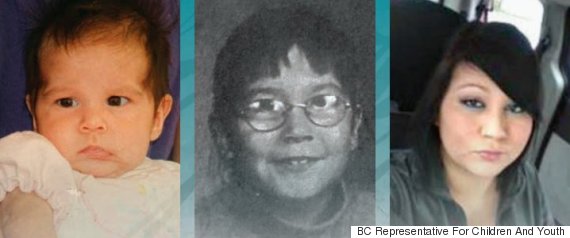 She suffered from Marfan syndrome, which left her legally blind without her glasses and caused heart problems. The teen developed her own substance abuse issues, was found unconscious or incoherent 17 times and was involved in more than 40 police files.
Turpel-Lafond said she couldn't comprehend why the Ministry of Children and Family Development repeatedly returned Paige to her mother, even when the woman was being sought by police for extortion, unlawful confinement and uttering threats.
She called on the ministry to immediately take steps to address the "indifference" of police, social workers, health care workers and educators toward aboriginal youth. She also demanded the province ensure that no children in care live in single-room occupancy hotels.
Turpel-Lafond said the investigation is among the most troubling her office has conducted, but it is sadly not unique. She estimates there are about 100 to 150 aboriginal youth similar to Paige in the Downtown Eastside.
Children and Family Development Minister Stephanie Cadieux said she was horrified by the report and vowed to create a "rapid-response team model" to intervene early in the lives of youth in the neighbourhood.
But she offered few details of the plan on Thursday, telling reporters she will begin with getting together ministries, police and the City of Vancouver to discuss the issue.
Mayor Gregor Robertson called Paige's tragic death a "damning indictment" of the current system and promised to continue to fight for the province to invest more in social housing and drug treatment.
— Follow @ellekane on Twitter.
— With files from Dirk Meissner.
ALSO ON HUFFPOST:
Canada's Missing Aboriginal Women