Vancouver teens won two of the three top prizes at the world's largest high school science research competition.
Raymond Wang, 17, took home US$75,000 at the Intel International Science and Engineering Fair in Pittsburgh, Pa. on Friday for a device that improves air quality on airplane cabins while cutting down on the transmission of diseases.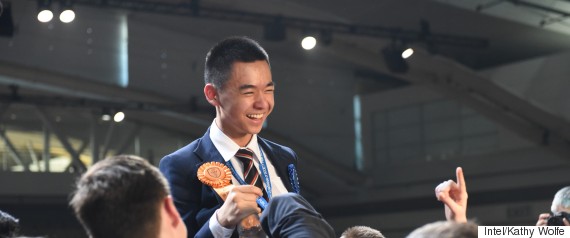 He told CTV News that his research was inspired by news stories on recent Ebola outbreaks. Though that virus is not spread through the air, he was struck by a statistic that one plane passenger with H1N1 could transmit the pathogen to 17 fellow travellers.
Using Boeing technical drawings, Wang came up with 32 computerized simulations of how pathogens are circulated in the airflow of a 737 cabin.
According to Intel, Wang's system improves the availability of fresh air in a plane cabin by more than 190 per cent, while cutting the concentration of pathogens by up to 55 times, compared to conventional designs.
Intel noted that Wang's invention could be easily and economically incorporated into existing airplanes. The Grade 11 student at St. George's School has a patent pending on his design.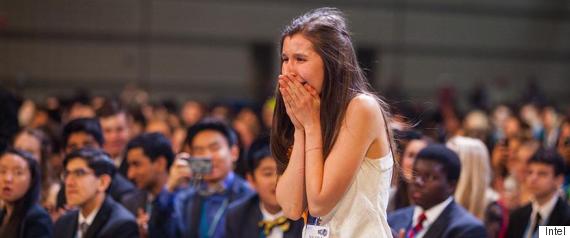 Nicole Ticea, 16, won US$50,000 for creating a simple and inexpensive HIV test that can be used by people in low-income communities. It can detect the virus in babies under 18 months old, as well as adults who've been infected for only three months.
The disposable device that doesn't require electricity provides results in less than an hour and should cost less than US$5 to produce. Ticea developed the test with the help of a professor and a grad student at Simon Fraser University.
The York House student has already created her own company, which recently received a US$100,000 grant to continue working on the technology.
Eleven Canadian students won a total of 29 awards, taking home US$198,200.
Wang and Ticea beat out about 1,700 young scientists from around the world at the Intel event. The technology company handed out US$4 million in prizes this year.
Like Us On Facebook

Follow Us On Twitter
ALSO ON HUFFPOST:
12 Amazing Inventions Created Entirely By Accident