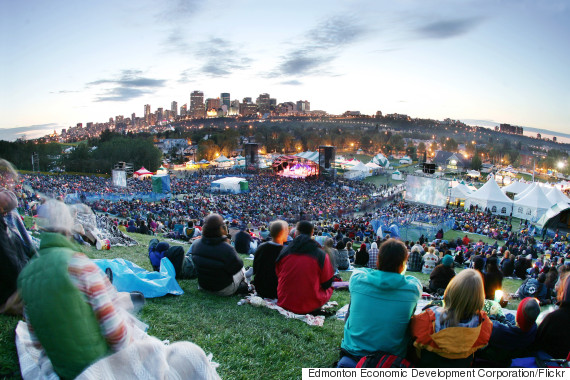 When you think of great summer trips, destinations such as Rome, Maui or Palm Springs come to mind.
And not one of them qualifies among the best for 2015, according to National Geographic.
Canada has one entry on the list, and it's not Banff or Muskoka.
Nope. This time Edmonton is enjoying a moment in the international travel spotlight.
"I think Edmonton has a really unique authenticity and a unique originality," Edmonton Tourism communications manager Renee Williams told Global News.
Alberta's capital was singled out for its summer festival scene, which will see an extra infusion of fun this year thanks to the FIFA Women's World Cup, which takes place from June 6 to July 4.
A total of 11 matches will be played in the city, including group games that have Canada kicking off against China and New Zealand.
The Edmonton Folk Music Festival, runs from Aug. 6 to 9, and the Edmonton International Fringe Festival from Aug. 13 to 23.
National Geographic also highlighted Edmonton's status as one of "Canada's sunniest cities," as it takes in as much as 2,300 hours of solar rays every year.
The city was listed alongside destinations including Machu Picchu, Athens and Singapore.
Here are National Geographic's top summer destinations for 2015:
National Geographic's Top Summer Trips for 2015