This is a game-changer.
Elle Australia enlisted supermodel Nicole Trunfio to pose for its June cover, but she wasn't the only one to make the final cut. Trunfio's four-month-old son, Zion, also appears on the cover, being breastfed by his mother. The moment was a candid one, captured by photographer Georges Antoni.
"This wasn't a contrived situation: Zion needed a feed, Nicole gave it to him, and when we saw how beautiful they looked we simply moved her onto the set," editor-in-chief Justine Cullen said. "It was a completely natural moment that resulted in a powerful picture."
The 29-year-old Australian beauty, who welcomed Zion with fiance Gary Clark Jr. back in January, took to Instagram to repost the cover, and explained how she hopes the photo will normalize public breastfeeding, a subject matter that is often viewed as taboo (just look at how long it took Instagram and Facebook to allow breastfeeding photos):
"There is nothing more powerful and beautiful than motherhood. The last thing I want to do is be controversial, so please take this for what it is, let us #normalizebreastfeeding there is nothing worse than a mother that is judged for feeding her hungry child in public. #weareonlyhuman I'm so proud of this cover and for what it's stands for. I obviously don't look like this while I am breastfeeding but this stands for all women out there, whether you breastfeed or not, we gave birth, we are women, we are mothers. Thank you to ELLE for being so bold and making such an encouraging, positive and healthy statement. #womenunite."
And while this marks the first time an Australian glossy has featured a nursing woman on its cover, many are frustrated Elle Australia chose to only use the photo on the subscriber's issue cover (the newsstand issue features a shot of Nicole fully clothed, holding a sleeping Zion).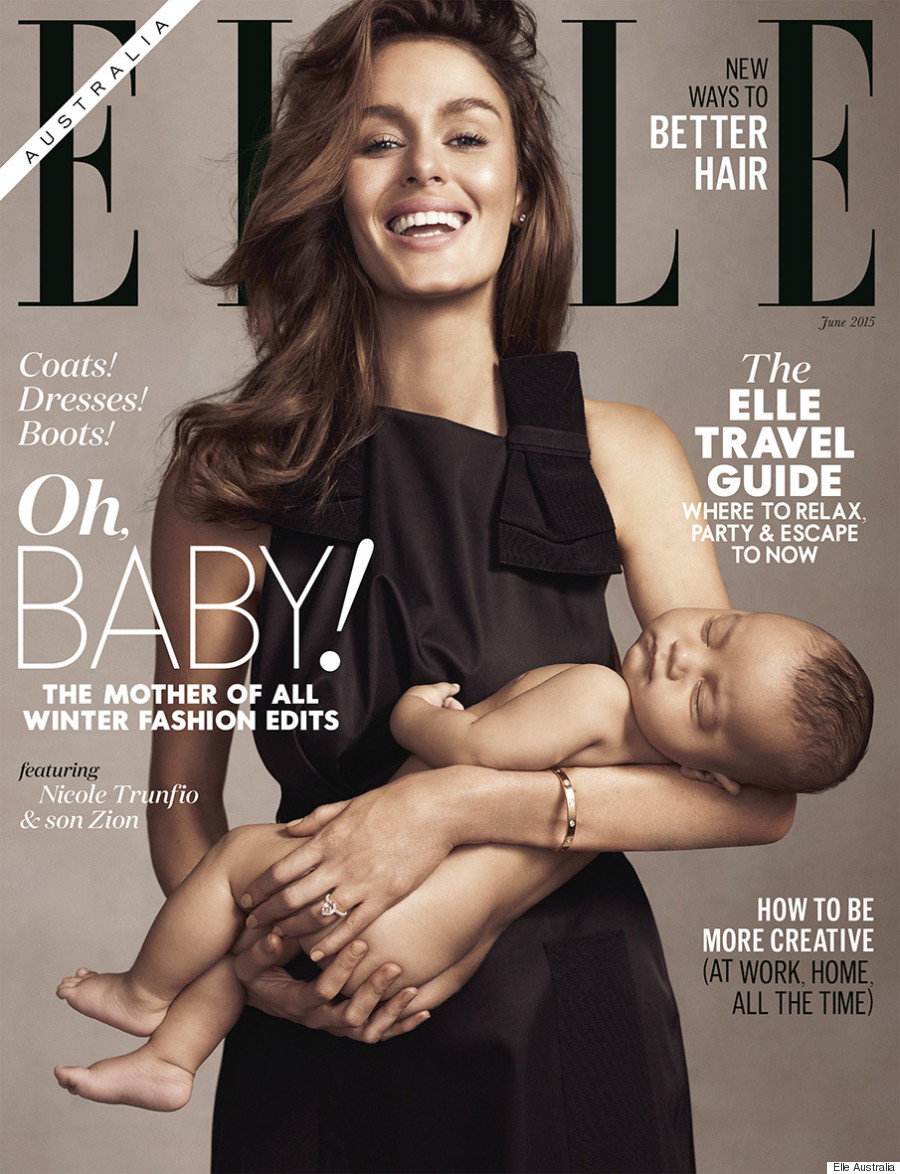 "You wussed out," Australian talk show host Sonia Kruger told Cullen on the 'Today' show. "Because Nicole she hashtagged didn't she? 'Normalize breastfeeding.' So to put it on the subscriber's issue and not the issue on stands, aren't you sending the wrong message to people? You're saying this is not for general consumption?"
"No, I don't think so," Cullen argued, explaining the newsstand cover was already planned and the subscriber's was a little "something extra."
"I think it's really important that this is also outside of just the 'normalizing breastfeeding,' it's about not judging women," she continued. "We're always made to feel ashamed for breastfeeding in public, or for not breastfeeding, or for not being able to breastfeed, and this is just another option."
But Kruger didn't let it go. "But the very fact that you didn't put it on the main cover says that we are judging."
"I think it just says that it's a commercial decision," Cullen stated. "We looked at the other image, the black dress image, and she's joyful and she's happy and that was another image of motherhood that we wanted to put out there as well."
Regardless, here's hoping this signifies a shift on people's negative views on the maternal gesture.
The June issue of Elle Australia hits newsstands Monday.
Follow Huffington Post Canada Style on Pinterest, Facebook and Twitter!
Also on HuffPost
Memorable Breastfeeding Moments In Hollywood