CACHE CREEK, B.C. - The mayor of a small British Columbia town has declared a state of emergency after a violent storm tore through the province's Interior and left a trail of damage and flooding in its wake.
Cache Creek Mayor John Ranta says nearly 100 people have registered at the emergency operations centre after rainfall levels topped 26 millimetres in a single hour on Saturday. Ranta says declaring a state of local emergency in the community of about 1,000 people near Kamloops will mean more financial support for rebuilding.
He also says it will allow the municipality to enforce an emergency evacuation order, which he expects will affect about 15 residences.Ranta says he expects the order to go into effect immediately and keep people from their homes until crews are able to ensure the slopes above their homes are stable.
Cache Creek Volunteer Fire Dept. Chief Tom Moe says the town looks like a war zone, with damage and debris strewn everywhere.
Moe says fire crews had difficulty responding to emergency calls on Saturday because a mud flow had forced its way through the department's bay doors and spewed through the fire hall. On Sunday, B.C. Premier Christy Clark tweeted her support for residents affected by the flooding.
Environment Canada says a severe thunderstorm watch remains in effect for Kamloops, the Okanagan and the Shuswap.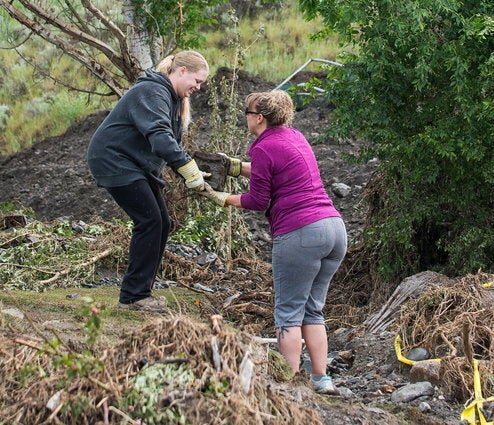 Cache Creek, B.C. Flooding, May 2015