This is how some Toronto homeowners respond to the onset of density.
A group of midtown Torontonians have created the "Density Creep Neighborhood Alliance" in response to Sherwood Park Modern Towns, a townhouse development planned for 200 to 214 Keewatin Avenue close to Mount Pleasant, which would replace eight single-family homes.
Trolleybus Urban Development and Freed Developments are planning a project of over 80 stacked townhouses for the area that it calls the "perfect urban home for professionals and young families starting out."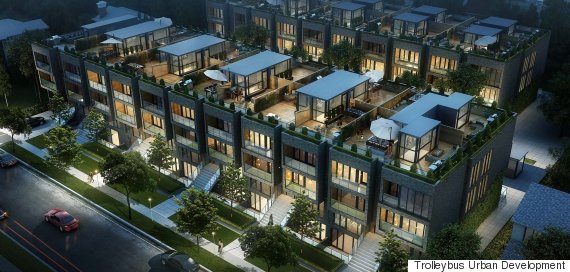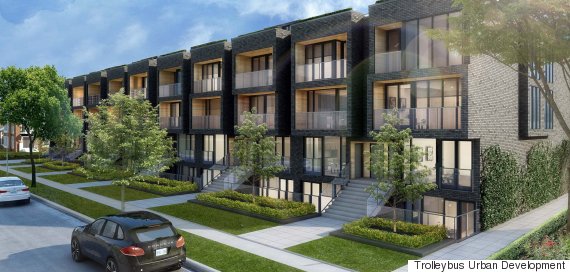 For longtime resident Lisa Goodwin, the issue is that the midrise development could hurt the values of properties that run in the low millions, she told The Toronto Star.
"Right now all the houses are $1.1 to, say, $2.2 (million) but they're looking at putting in places that are only $500,000," she said.
(Costs of units at Sherwood Park Modern Towns are expected to range anywhere from $369,000 to more than $1,559,900.)
The group has started a "Save Our Streets" campaign, which has involved placing signs like the following one throughout the neighbourhood.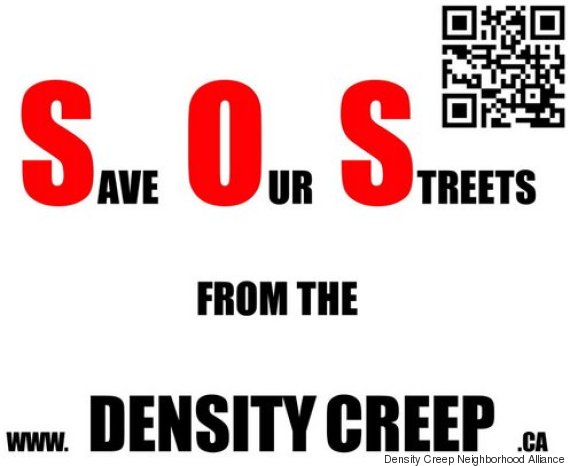 Members allege that the proposed project "exceeds zoning restrictions in height, density and setback and does not fit with the character of the street."
"We're not against development," alliance founder Marcia Visser told the Star. "We're just for planned development that enriches our neighbourhood and maintains and reinforces the physical character of our neighbourhood."
The story spawned the hashtag #DensityCreep, which was trending in Canada on Monday morning and generated the following posts, mocking the alliance.
#DensityCreep pic.twitter.com/isKylPAtI8

— Bronwyn (@morningfindsyou) May 25, 2015
A quick lesson for those fighting development in the Keewatin Yonge/Eglinton area: #DensityCreep #Toronto pic.twitter.com/vwqICUR1m6

— Mr. Maquee (@MrMaquee) May 25, 2015
The proposed Keewatin #densitycreep is only comparable to the Kowloon Walled City, obviously. Same thing. pic.twitter.com/eEKZ57aSsw

— Sean Galbraith (@PlannerSean) May 25, 2015
@swaych #DensityCreep, amirite? pic.twitter.com/6BcdhRqjvp

— Jay Borenstein (@nerdyspeaker) May 25, 2015
Here's Keewatin Ave., across the street from the proposed 4-story development. The horror. #densitycreep pic.twitter.com/6ztAxCdgVT

— Alex Colangelo (@AlexColangelo) May 25, 2015
As Col. Kurtz might say ...
Like Us On Facebook

Follow Us On Twitter

ALSO ON HUFFPOST:
'Mean Girls' House For Sale In Toronto