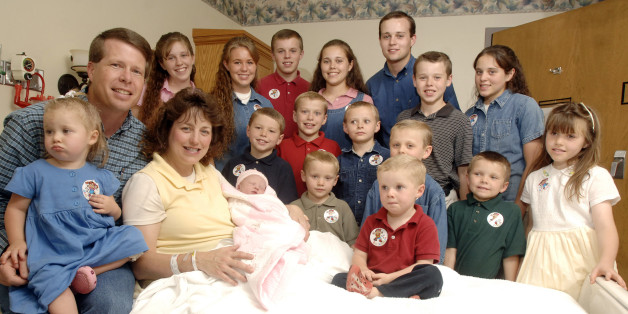 ASSOCIATED PRESS
"19 Kids And Counting" stars Michelle and Jim Bob Duggar found themselves in the spotlight for dark reasons this week after reports surfaced that their oldest son, Joshua, molested several young girls, including some of his sisters, during his teenage years. With 19 children, the Duggars are frequently associated with the "Quiverfull" movement -- a contingent of conservative Christians who shun contraception -- though Michelle and Jim Bob have said they do not formally consider themselves "Quiverfull" Christians.
Even if the family doesn't openly embrace the ideology, their lifestyle mirrors many of its core principles. To remind you exactly what the movement is all about, here are a few key facts you should know:
The name comes from a passage in the Bible.
Psalm 127 states: "Children are a heritage from the Lord, offspring a reward from him. Like arrows in the hands of a warrior are children born in one's youth. Blessed is the man whose quiver is full of them. They will not be put to shame when they contend with their opponents in court." A quiver, in the old English sense of the word, is a case for holding arrows.
Many couples in the movement believe God won't give them more children than they can handle.
Families that follow Quiverfull ideals refrain from using contraception, believing that it is only God who "opens and closes the womb," as adherent Kelly Swanson told NPR. Another adherent told BBC in 2013 that her husband "saw it wasn't such a scary thing to do after all, and that God wouldn't overwhelm us with more than we could handle. One baby at a time arrived, and we were handling it, so we felt our marriage was being blessed by this choice and we continued."
A woman's ability to bear many children, like Michelle Duggar has, depends partly on overall health and partly on genes, Dr. Karen V. Wells from the Center for Women's Health at Evergreen Hospital in Washington told NBC News. The outlet noted that after five or six children, women are more prone to post-partum bleeding or hemorrhaging, though one doctor told NBC that having many kids can help protect women from breast and ovarian cancer.
Some Quiverfull adherents believe they are building an army for God -- or at least an army of conservative Christians.
Author Nancy Campbell, a well-known proponent of Quiverfull ideology who writes at the website Above Rubies, said in one post that the womb is a "weapon against Satan."
"It is the womb that conceives and nourishes the 'godly seed' who will come forth to be the light in the darkness and who will destroy the works of Satan in this world. God is looking for an army. ... The womb is a powerful weapon against Satan. Some women fear to bring babies into this evil world, but this is one of the greatest reasons for having children--to be the light in this dark world!" she wrote.
Kathryn Joyce, author of Quiverfull: Inside the Christian Patriarchy Movement, noted the political aspects of the belief system in a 2006 article on its history. One primary example is the 1990 bookA Full Quiver: Family Planning and the Lordship of Christ by Rick and Jan Hess, who bemoaned the lack of conservatives in Washington.
Joyce described the Hess' thinking: "But if just eight million American Christians began supplying more 'arrows for the war' by having six children or more, they propose that the Christian Right ranks could rise to 550 million within a century."
The Duggar family may hold many of the same beliefs, but they do not self-identify with the Quiverfull movement.
In their book, A Love That Multiplies, Michelle and Jim Bob Duggar wrote: "Even though Wikipedia and some Internet blogs report that we are part of a QuiverFull movement, we are not. We are simply Bible-believing Christians who desire to follow God's Word and apply it to our lives. God says children are a gift and a blessing, and we believe it."
Vyckie Garrison, a former adherent to the Quiverfull lifestyle who went on to start the blog "No Longer Quivering," points out that some may hesitate to label themselves as "Quiverfull" due to the politically charged nature of the term.
But the heart of the lifestyle, which the Duggars demonstrate, is what Garrison calls the practice of "biblical family values."
The Quiverfull movement is anti-feminist and encourages a patriarchal system.
Doug Phillips, the former president of Vision Forum Ministries who is frequently described as a leader of the Quiverfull movement, has preached a message of "biblical patriarchy," according to Religion News Service, stating that a man should "rule over his household" and "the God-ordained and proper sphere of dominion for a wife is the household."
BBC notes that the Quiverfull movement originated in part as a backlash against the feminist movement and growing acceptance of birth control within American Christianity. Joyce adds that some Quiverfull adherents believe birth control to be the "hallmark of selfish feminists."
Some of the most prominent advocates of the movement have been women.
Mary Pride's 1985 book, The Way Home: Beyond Feminism, Back to Reality, helped set the stage for the Quiverfull movement. In the book, Pride called family planning "the mother of abortion."
"A generation had to be indoctrinated in the ideal of planning children around personal convenience before abortion could be popular," she wrote.
Campbell of Above Rubies says in one post on her site that "the womb is God's beautiful gift to women. In fact, our whole reproductive cycle is designed especially for us by God."
The movement has been linked to sexual assault before.
In the wake of the news that Joshua Duggar admitted to molesting underage girls, he released a statement on the family website, saying, "Twelve years ago, as a young teenager I acted inexcusably for which I am extremely sorry and deeply regret. I hurt others, including my family and close friends."
Quiverfull leader Phillips found himself mired in controversy in 2013 when he admitted to "a lengthy, inappropriate relationship with a woman" who was not his wife. "While we did not 'know' each other in a Biblical sense," Phillips wrote on the Vision Forum Ministries website, "it was nevertheless inappropriately romantic and affectionate."
The following year, the woman came forward to sue Phillips and Vision Forum for mental distress caused by what she said was an abusive and manipulative relationship. Lourdes Torres-Manteufel alleged in a lawsuit that she met Phillips in 1999 when she was 15 years old and that he manipulated her into moving into his home in 2007. There, she charged, Phillips would repeatedly enter her room at night to touch her body, masturbate and ejaculate on her, despite her protests.