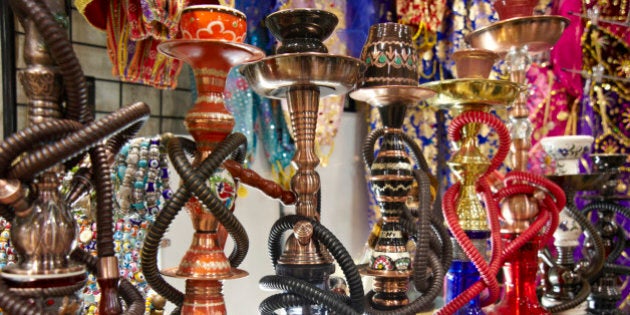 Toronto's chief medical officer of health wants to pull the city's bars out from under a haze of hookah smoke.
"Using a hookah to smoke any substance poses health risks, such as heart and lung diseases, lung cancer and other respiratory problems to users and those exposed to second-hand smoke, including employees," McKeown said in a statement from Toronto Public Health (TPH).
"Hookah smoking is on the rise among young people, who often mistakenly believe it is a safe form of smoking."
Hookahs, or waterpipes, use charcoal to heat up moist tobacco or non-tobacco products known as shisha. They create smoke which is then cooled off by water before users breathe it in through a pipe.
In recommending a ban, TPH cited a 2014 report to the city's Board of Health which pointed out that "hookah use of any substance could have negative consequences for health, especially for workers in establishments that allow hookah use."
As part of that report, TPH noted a 2013 air monitoring study by the Ontario Tobacco Research Unit (OTRU) at 17 hookah cafes throughout the city.
The OTRU's research also found elevated levels of nicotine in indoor hookah bars, which suggested that tobacco was being smoked despite the Smoke-Free Ontario Act (SFOA), which bans smoking in workplaces and enclosed public places. The act doesn't ban smoking shisha indoors.
The TPH report said that hookah smoking has been linked to conditions such as heart disease, carbon monoxide poisoning and lung cancer.
If the ban passes, it could affect at least 60 businesses that offer hookah use throughout the city, TPH said.
A separate study, by the National Institutes of Health, noted that one hookah session can produce 6.5 times the carbon monoxide, 1.7 times the nicotine and 46.4 times the tar that a single cigarette can.
Real Clear Science blogger Alex Berezow compared it to "smoking 10 to 40 cigarettes in a single sitting, and then kissing everybody as well."
Toronto's proposed hookah ban is set to be considered by Toronto's Board of Health on June 1.
It's not the only city that has looked at banning the devices.