A Vancouver Realtor says a speculation tax proposed by the mayor and a prominent condo marketer won't solve any problems, and in fact, could make the city's scorching real estate market worse.
Mayor Gregor Robertson is calling for the province to impose a tax on home buyers who sell their properties within six months. The idea was also a key plank of condo marketer Bob Rennie's annual speech to developers last week.
"It's clear that rampant speculation on real estate is driving up prices in Vancouver," said Robertson on Friday, underlining the need to create a "fair and level playing field to make housing more affordable."
Realtor Ken Wong was curious about the pair's claims, so he did his own survey of the roughly 500 single-family, detached homes sold in the city between April 9 and May 23, using the Multiple Listing Service (MLS).
"As a Realtor, whenever I do open houses or I bring clients to them, I don't get a sense of that," Wong told The Huffington Post B.C. in an interview. "That's what led me to research it; let me find out if there's speculation and if there is, how strong is it."
Comparing the results for homes purchased in the last 45 days and the previous time they were sold, Wong found that:
4.7 per cent (24 properties) were flipped in one year or less.
3.3 per cent (17 properties) were flipped after one to two years.
2.8 per cent (14 properties) were sold after two to three years.
"There's always going to be a baseline of flippers, so in my opinion, five per cent isn't able to justify rampant house prices," said Wong, who works for Royal Pacific Realty. "I'd be interested to know where the mayor and Bob Rennie are getting their information from."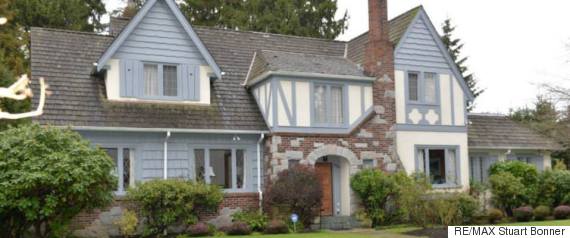 This Vancouver house sold for $2 million above asking price earlier this month.
When asked what statistics were behind Robertson's description of "rampant speculation," his office did not did not refer to any data on home flipping, but pointed out trends like the average detached home price hitting $1.4 million, and March home sales up 27 per cent over the 10-year average.
"The mayor's call for a speculation tax is one tool to address the surge in housing prices," said Braeden Caley, Robertson's director of policy and communications.
But the B.C. finance minister is cool to the idea. While a new tax would give the government more revenue, Mike de Jong said it would likely have little impact on housing affordability. He told CTV News that intervening could hurt home equity for many families.
Wong fears that if a speculation tax is created, people will think the problem of surging home prices is solved.
"Prices would increase even more because nothing has been done. Because that wasn't the problem in the first place," said Wong. "Those kinds of statements are irresponsible, and Mayor Robertson and Rennie should have got their facts straight before they said that."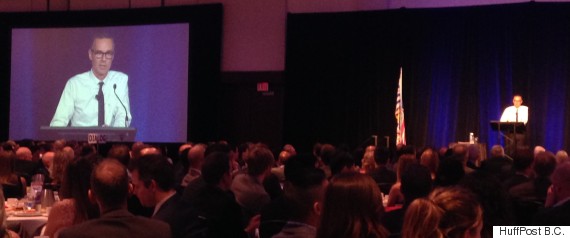 Condo marketer Bob Rennie speaks to the Urban Development Institute on Friday.
However, Wong does agree with Rennie's stance that high prices are being driven by low supply, and that the city needs to change rezoning rules to build more condos.
He added that he thinks there's a housing crisis — but mainly for people who want to live in a detached house with big backyard.
The issue has struck a chord with thousands of professionals in their 20s to 40s who lament the fact they can't buy an average single-family home in Vancouver without at least $1 million. The sentiment has sparked a social media campaign, #DontHave1Million, and a protest over the weekend that attracted hundreds of people.
Like Us On Facebook

Follow Us On Twitter
Also on HuffPost
Canada's Most, Least Affordable Housing (2014)