The filming of "Suicide Squad" has turned parts of downtown Toronto into Gotham City.
The scene was surreal on Monday night, when onlookers captured video of the Batmobile chasing the Joker down Yonge Street.
"Suicide Squad" tells the story of a task force of supervillains who carry out dangerous missions in order to commute their prison sentences.
It's expected to be a cornerstone film of the DC Comics cinematic universe, which also includes movies such as "Man of Steel" and "Batman v. Superman: Dawn of Justice."
Social media has lit up with photos from the set. One of the standouts has been the Joker's garish, chrome-wrapped car.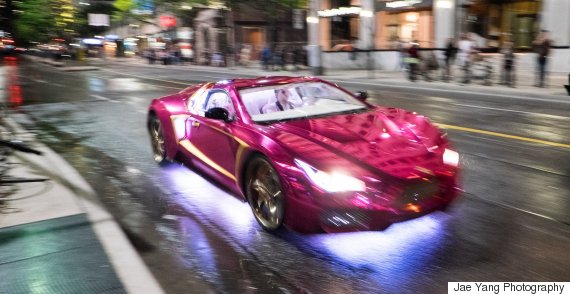 (Photo via Jae Yang Photography. Used with permission.)
Joker's Car #SuicideSquad ... pic.twitter.com/JsHog3t5Qt

— cinelander (@cinelander) May 26, 2015
Real life car chase going on on Yonge Street #SuicideSquad #Yongestreet #Batman #Batmobile pic.twitter.com/E54ojBJAtr

— Josh Nelson (@jatchua) May 26, 2015
And then there's the actors themselves.
Here's Jared Leto, who plays the Joker.
Update: Better set photos from #SuicideSquad That feature the Joker/His car are now online...http://t.co/ssVTNjXPXC pic.twitter.com/TnF9VipCgy

— LatinoReview-Kel (@Latinoreview) May 18, 2015
And here's Margot Robbie, who plays his accomplice Harley Quinn.
NOW THAT IS HARLEY. • ••

#MargotRobbie #SuicideSquad pic.twitter.com/gRffbyxNtb

— #DC Live Feed (@DCLiveFeed) May 16, 2015
New exclusive looks at damaged HARLEY QUINN for 'SUICIDE SQUAD'. pic.twitter.com/ybgOvbDBqn

— Superhero Feed (@SuperheroFeed) May 26, 2015
Ben Affleck has also reportedly shown up in his Batman costume, albeit under a black cover.
Ben Affleck has been spotted on the #SuicideSquad set trying to hide the #Batman costume. Nice booties! pic.twitter.com/gxvc1SKN2u

— Push Your Glasses Up (@PushGlassesUp) April 30, 2015
Clearly, we're in for a more colourful Joker than we saw in "The Dark Knight."
The Suicide Squad wishes you a Happy Anniversary Mr. J! #Joker75 #SuicideSquad @WarnerBrosEnt @DCComics pic.twitter.com/LZXz0x947Q

— David Ayer (@DavidAyerMovies) April 25, 2015
Like Us On Facebook

Follow Us On Twitter

Also on HuffPost