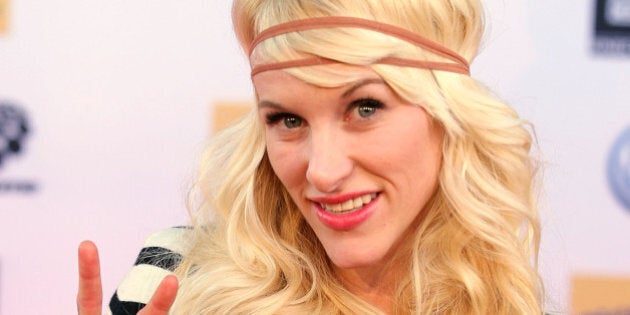 "It felt like it was in slow motion. I was in tears, it was so embarrassing," the singer told CTV News. "No mother should have to apologize because their child is crying or upset on a flight."
"He was crying and squirming," recalled Blackwood, who is seven months pregnant. "I was holding him down on my lap."
The plane taxied down the runway for a few minutes before it stopped and returned to the gate. A flight attendant then told Blackwood she had to get off the plane. According to SkyWest, who operates United Airlines, the singer was removed from the flight because her "child could not be secured for takeoff."
At the time, Giorgio was sitting on his mom's lap because plane tickets can only be bought for children who are two years and older. According to Blackwood, the little boy was quiet and asleep by the time the plane turned around. Nonetheless, the singer, her son and her nanny, who was accompanying her, were all kicked off the plane and rebooked on a different flight that evening.
Outraged by the incident, Blackwood took to Twitter to share her feelings:
On Thursday, a YouTube video surfaced of Blackwood speaking to another United Airlines employee, who was shocked at what had happened. "I've never heard of somebody taking you out because [the baby] is crying," the woman can be heard saying.
Soon, Blackwood's story went viral, leaving many people appalled. "What kind of flight attendants and pilot would do such a thing?" wrote one Facebook user. "Babies cry. Definitely not a health or security risk to anyone on the plane."
While United Airlines has yet to comment on the incident, Blackwood says: "I can't believe that they would treat somebody this way. I was traveling with my child. I've been on planes before with babies that have screamed the entire way and I felt compassion for the mothers and the children."