RCMP
VANCOUVER - A British Columbia father who killed his three children while suffering psychosis has been granted escorted outings into the community, a privilege giving him limited new freedom seven years after the murders.
Allan Schoenborn received the B.C. Review Board's approval even as the Crown warned panel members to heed new Conservative government legislation empowering them to hold mentally ill offenders indefinitely.
Immediately upon receiving the decision, Darcie Clarke, the children's mother, said in a statement that her family will still work with Crown to apply to B.C. Supreme Court to label the 47-year-old a "high risk" offender.
"This is the decision my family and I had been dreading," she said in the online statement.
"This is uncharted territory ... Our hope is that the Supreme Court will look at the facts without the review board bias and find Allan a high-risk."
The B.C. Review Board is governed under federal jurisdiction.
Schoenborn's lawyer has said in the past that approval of outings for his client could make it more difficult for the province to persuade the court to seek the designation.
Clarke also took aim at the B.C. Review Board directly, calling on Premier Christy Clark and B.C.'s Minister of Justice to review the board and its operations at the Forensic Psychiatric Hospital.
"The dysfunctional nature of the board and forensic hospital administration is shameful," she said. "These two entities have cultivated a culture which condones conflict of interest while ignoring public safety. This is a system screaming out for reform."
The ruling gives the hospital director the discretion to direct trained staff members to escort Schoenborn on brief, highly managed excursions into a nearby city.
A B.C. Supreme Court judge found Schoenborn was suffering psychosis when he stabbed his 10-year-old daughter and smothered his two sons, who were eight and five, in their Merritt, B.C., home.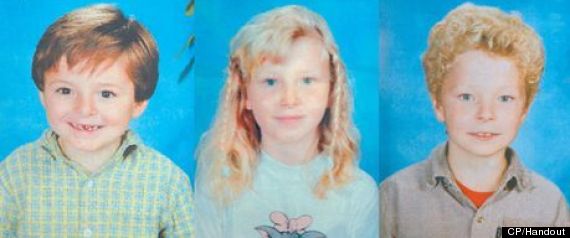 Schoenborn admitted to killing his children, Max, 8, Kaitlynne, 10, and Cordon, 5.
He was arrested after a 10-day manhunt in April 2008.
Schoenborn has been held in the psychiatric hospital in suburban Vancouver since being declared not criminally responsible for the killings on account of mental disorder, or NCR, five years ago.
An hearing for his request for brief outings lasted four days, prolonged by adversarial questioning by the Crown of each witness. Most hearings take just hours.
The Crown challenged the hospital's director, a prominent expert on assessing and treating NCR patients, arguing that evaluations of Schoenborn's risk to the community were "not up to standard or consistent with the best practises."
Prosecutor Wendy Dawson told the board reviewing Schoenborn's case that allowing him to have supervised outings was gambling on public safety, and would not align with the year-old Conservative legislation, Bill C-14.
The Criminal Justice Branch said at the time it was updating its files on Schoenborn's status and would wait until the ruling before determining whether to ask the court to designate him "high risk." If successful, the B.C. Review Board would be permitted to wait three years between reviews.
The hospital's lawyer countered during the hearing that public safety is always the first consideration before granting a patient limited release, and its goal is rehabilitation.
Schoenborn's treating psychiatrist said that while the man remains a "significant threat," he is at low risk of escape and would be under constant watch.
The hearing was told Schoenborn has 11 recorded incidents of physical or verbal aggression inside the hospital since his last review, mainly in relation to one other patient.
The ruling permits outings only after extensive planning by the hospital. Its medical director can cancel a planned trip at any point.
Follow @TamsynBurgmann on Twitter
Also on HuffPost
Janzen Family Triple Murder, Suicide