Is playtime just for kids? That's a question being posed by a new show at the Toledo Museum of Art.
And it's finding out the answer using the creative energies of a pair of innovative artists from Bridgetown, N.S., who make massive, colourful playgrounds that are formed out of crocheted nylon.
"Harmonic Motion" is an exhibit by Toshiko Horiuchi MacAdam and Charles MacAdam that forms part of Play Time, a show that runs from May 22 to Sept. 6.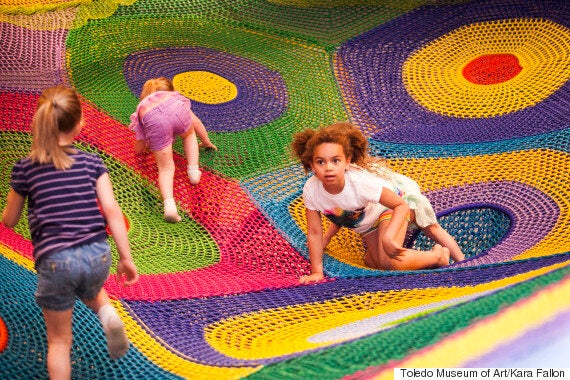 Photo courtesy of Toledo Museum of Art, Kara Fallon photographer
The MacAdams fashion their playgrounds by taking thousands of pieces of nylon and stringing them together to create colourful playgrounds that people can climb upon.
Threads contract as they traverse them, like a massive web.
Their works have been displayed all over the world, in Spain, Japan, China and Singapore.
One also appeared at the Museum of Contemporary Art in Rome (MACRO), where they installed a web as part of an exhibit called Enel Contemporanea, in 2013. That piece is now being repurposed for the exhibit in Toledo.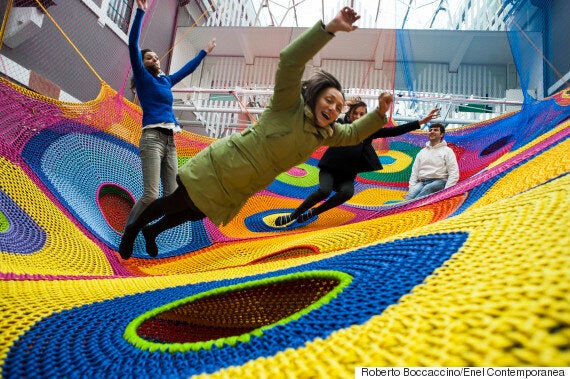 Photo by Roberto Boccaccino, courtesy of Enel Contemporanea
MacAdam's early influences include Spanish artist Antoni Gaudi, whose works are based on curved forms as determined by gravity, and mosques she saw in Isfahan, Iran, she told architecture website Arch Daily in 2012.
"When I saw [Antoni] Gaudi's work, I realized immediately his forms are naturally connected to textiles," MacAdam said.
"And then when I saw the mosque at Isfahan, I realized the shape of the mosque and the inlaid tile-work covering its interior and exterior surfaces are not separate ... but form part of the building's fabric and geometry."
The museum sees the question of play as a complicated one. But for us it's pretty simple: we'll frolic on these giant, colourful playgrounds the first chance we have.
Check out more photos of the MacAdams' playgrounds: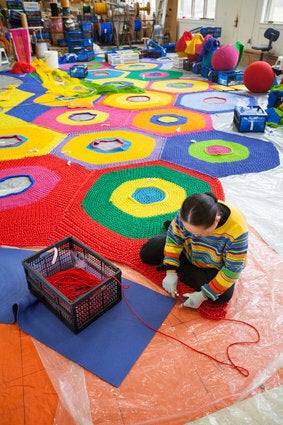 Knitted Playgrounds by Toshiko Horiuchi MacAdam and Charles MacAdam