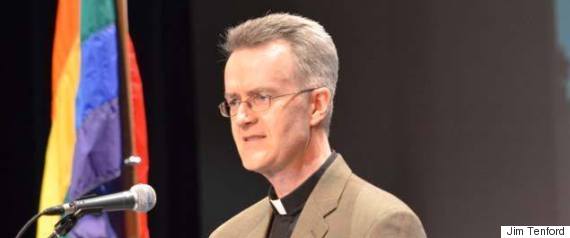 A United Church minister has marked Pride Week in the prairie city of Moose Jaw, Sask. with a public letter, asking the LGBT community for forgiveness.
Rev. Jim Tenford of St. Andrew's United Church had his letter published in the Moose Jaw Times Herald last week, as the city kicked off its third annual Pride celebrations.
He acknowledges many people still suffer persecution "and that indeed, the church is still a part of this." He mentions fellow Christians who have been told that "being gay and Christian are mutually exclusive."
But this is the section that has touched so many people:
"Another important part of Christianity is forgiveness and so I ask you something which maybe I have no right to ask. I ask that you forgive the church and those of us who claim to follow the Way of Christ. As in so many other matters of civil rights that humanity has struggled with, the church has often been slow to get on board but once we do, we can be powerful allies. A rapidly growing number of us want to walk with you into a better future, a future where there will be no us and you, but only we."
Moose Jaw Pride's website features the full copy of the letter, and has been getting so much traffic that it crashed, reported CBC News.
Tenford, who is a member of the Moose Jaw Pride board, said he's "absolutely shocked" by the attention.
"I'm thrilled that a 'good news story' about the church is drawing attention," he wrote in an email to The Huffington Post Canada on Saturday. "Too often the loudest, most hateful, most extremist voices are what's given attention."
He added that the focus on his letter may also be a sign that "we who do celebrate diversity need to do a much better job of sharing the good news that God loves all, and works through, rather than despite, our differences."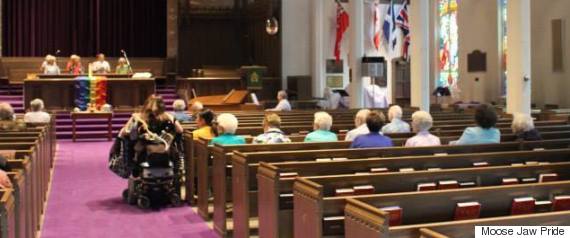 The day after Tenford's letter was published, St. Andrew's United Church hosted a service in the city of 33,000 to celebrate diversity and inclusion.
The minister's Sunday sermon called for a "new Moose Jaw and a new world where all people, regardless of who we fall in love with are afforded the same respect and compassion."
The United Church of Canada has general policies welcoming people of all sexual orientations, as well as same-sex marriages. However, many congregations with more conservative stances are allowed to make their own decisions on the participation of LGBT members.
In 2012, the church elected Rev. Gary Paterson to be its first openly gay moderator, who provides spiritual leadership for the organization. He is married to Tim Stevenson, a Vancouver city councillor who is himself Canada's first openly gay man to be ordained as a United Church minister.
Also on HuffPost
Same-Sex Kisses In Churches