Erinne Paisley's paper grad dress is made from old math homework, held together with tape and satin — and she hopes it will help send other girls to school.
Paisley wore the dress to her high school graduation ceremony in Victoria, B.C. last month. On the skirt, she wrote:
"I've received my education. Not every woman has that right."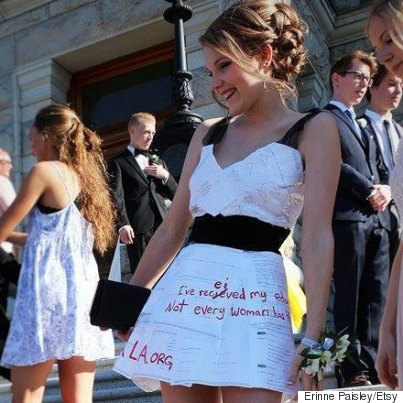 Paisley donated the money she would have spent on a traditional gown to the Malala Fund, which helps send girls around the world to school.
She said she was inspired after seeing Nobel Peace Prize winner, Malala Yousafzai, speak at a 2014 event, reported CBC News.
Yousafzai was just 15 when members of the Taliban shot her in the head because of her campaign for girls' right to education. She survived the attack in Pakistan, and became the youngest winner of the Nobel Peace Prize in 2014.
"Being in the same room as [Malala] and everything was so touching, and I was inspired to an extent I can't even describe," Paisley told CBC.
The teen has now put the dress up for auction on Etsy, hoping to raise $5,000 — all of which will go to the Malala Fund.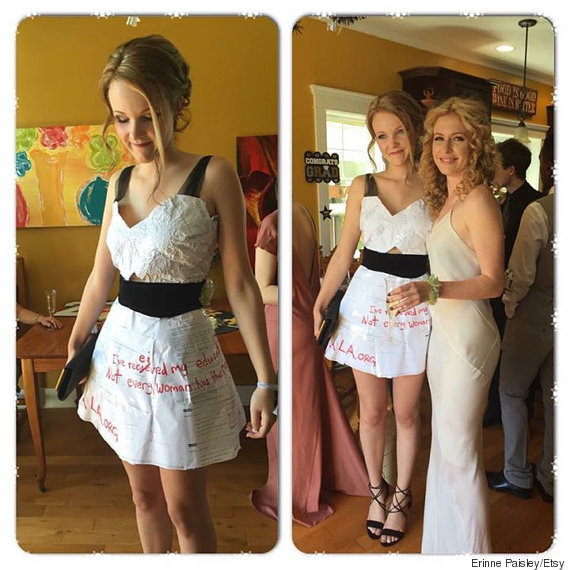 Like Us On Facebook

Follow Us On Twitter
ALSO ON HUFFPOST: