The University of British Columbia is proposing to build dozens of micro apartments to address the demand for affordable student housing.
A pilot project plans to create 43 suites, which would feature a bathroom, kitchen, and sleeping area in 145 sq. ft.
"It provides a much lower priced option for students who have significant affordability challenges and who would appreciate this kind of living environment," said Andrew Parr, UBC's managing director of student housing.
Average monthly rent on the UBC campus in Vancouver ranges from $600 to $1,200 depending on the unit. A non-dormitory style for upper year students costs about $900.
The micro apartments are expected to rent between $650 and $700 in 2019 if the proposal goes through as part of a new building. The $70-million Gage South Student Residence will include four towers — and 630 beds — over top of a new bus exchange.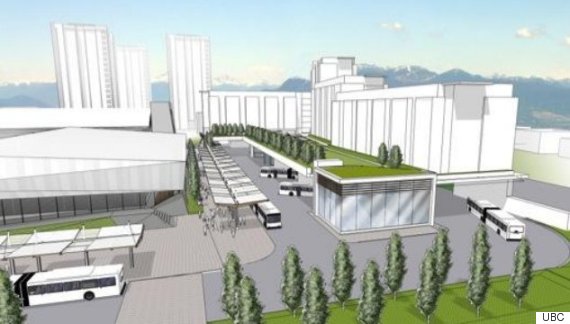 An artist's rendering of the proposed Gage South Student Residence.
It's one of five UBC housing projects planned to bring 3,000 new beds for students by 2020. Two projects are underway, while three are at the design or approval stage.
The demand for on-campus housing is "huge and growing," said Parr in an email to HuffPost B.C. A growing international student population, and Metro Vancouver's high rents and limited stock are among the reasons driving the student housing pressure, he said.
Parr emphasized the proposal is at an early stage. A display micro-unit will be built — likely this fall — so students can see and experience that type of suite, and provide feedback, he added.
Related Stories:

Like Us On Facebook

Follow Us On Twitter
Also on HuffPost
Pender Island Tiny House Treehouse