Talk about a wedding laid bare.
A rather cheeky picture of a naked man streaking behind a newlywed couple in Whistler, B.C. is the stuff of wedding photo legend.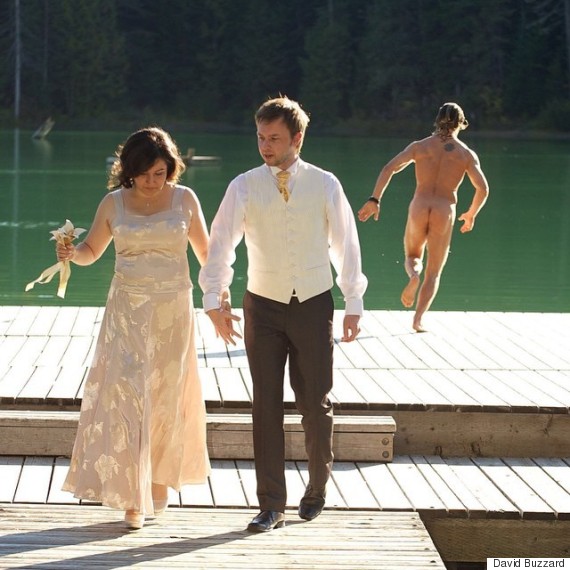 Photographer David Buzzard captured the hilarious image in 2012. He said the couple, who had no guests, had asked to be married at the end of the dock at Lost Lake.
Buzzard warned the couple that nudists were bound to be hanging out at the popular spot, considering that relaxing in the buff is a common public activity in Whistler. (So common, in fact, that Pique magazine has pages upon pages chronicling the town's greatest nude escapades.)
"They said they didn't mind," Buzzard told The Huffington Post B.C. "It was a beautiful day, so there was a bunch of naked people around.
I was like, 'Er, mind if we just have a quick wedding here?'"
Buzzard said the nude sunbathers quickly put on some shorts and shuffled aside. After the vows, the photographer wanted one last photo of the newlyweds walking back to shore.
Then, the naked man popped up out of left field. (Because, Whistler.)
"I guess the guy didn't realize I was still photographing, and he was running in to dive into the water behind," Buzzard said. "I just saw the shape come into the corner of my frame and run through, so I snapped a nice little sequence of him sprinting in.
"It sums up a lot of what Whistler's about: it's a live and let live casual place," Buzzard said. "Crazy stuff happens here all the time."
The photographer said the couple "thought it was hysterical," as did the streaker, who thought it was "the funniest thing in the world."
Like Us On Facebook

Follow Us On Twitter
ALSO ON HUFFPOST:
Best Wedding Photobombs Of 2014