Perhaps some divine intervention is what the Vancouver Canucks need to win the Stanley Cup. Now, they've got it, thanks to newlyweds who are both devoted Catholics and devout fans.
Joseph and Marion San Jose got married in Richmond, B.C. on Saturday, then jetted off to Europe for their honeymoon. They stopped in Rome where they hoped to get Pope Francis' blessing.
AND THEY DID.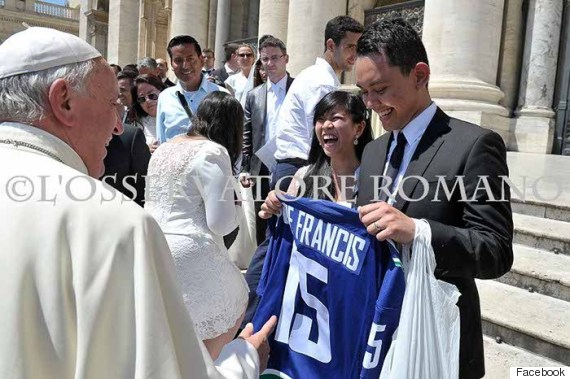 The Pope regularly blesses couples who have been married within the last two months — as long as they bring their sacramental marriage certificate and wear their wedding outfits.
Or as Joseph San Jose put it: "It involves making a trip to Rome your honeymoon, bringing your wedding dress, and baking in the hot sun for 5 hours, but it's worth it!"
It's also common for couples to bring a gift for the pontiff, so the Vancouver duo handed him a custom-made Canucks jersey, with "Pope Francis" on the back.
"We love our Catholic faith, our Pope, and the Canucks!" explained San Jose in an email to HuffPost B.C.
According to San Jose's Facebook post, here's how the encounter unfolded:
JOE: For you, Papa Francesco!


POPE FRANCIS: Ah, you are from Vancouver!


MARION: (in broken but lovingly attempted Spanish) It's our hockey team!


POPE FRANCIS: Yes, hockey!


He then blessed us and walked away.
San Jose described it as a dream come true.
"Even if he can't speak English, we felt his loving presence, and in a deeper way, we felt God was smiling on our marriage at the same time," he said.
San Jose posted the photos — with the watermark of the Vatican City's newspaper — on his Facebook page on Wednesday.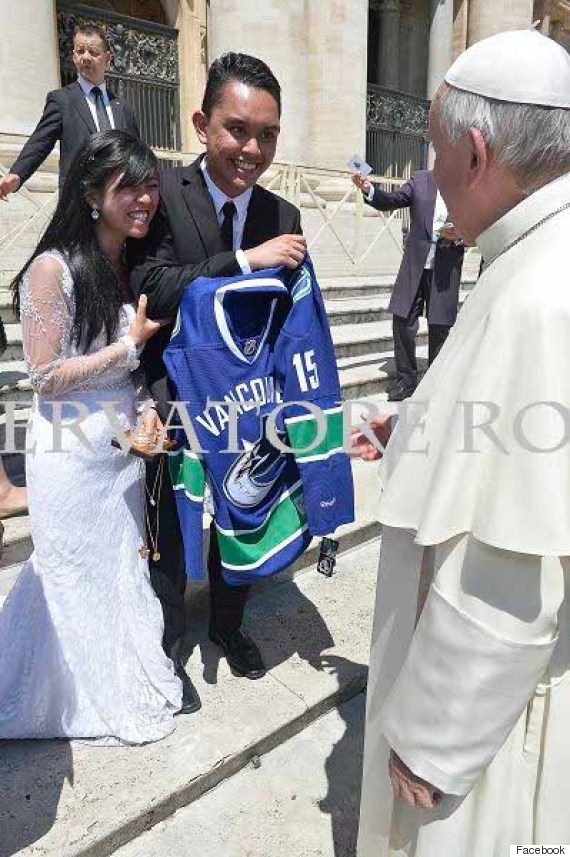 The couple's friend, Clayton Imoo, is known for musical parody tributes to the Canucks, and he was the one who made the jersey for the Rome trip. Imoo told sports blog Pass It To Bulis that he chose the number 15 because of the year.
"While Pope Francis probably won't be able to jump on the ice to help our boys out, maybe he'll say a prayer or two for them, to help them stay healthy and help them believe that they can give their best on the ice!" said an ever-faithful San Jose.
Habemus Canucks fan!
Like Us On Facebook

Follow Us On Twitter
ALSO ON HUFFPOST: