Talk about aging gracefully.
She started pole dancing three years ago after a friend recommended she make the switch from belly dancing.
"[My friend] said you get a far better workout doing pole, so I thought I'd give it a try," Lynn tells The Huffington Post B.C. "It took me a little while to warm up to it. It's not as easy as it looks... but I just kept going."
Working with a trainer, it took Lynn a year just to be able to climb to the top of the pole — but she says the challenge is what fuels her. She's now in great shape, thanks to training sessions several times a week in Metro Vancouver.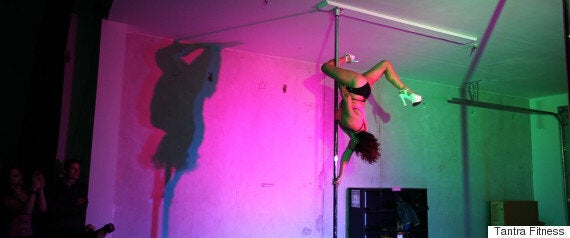 "Fitness is for everybody regardless of your age," she says. "Most people don't think I'm 60 anyway. There are some people that would think, 'Oh my god' [when they hear about my pole dancing] but if you love what you do and do what you love, then age is just a number."
Lynn, who has three adult children, says her family is supportive of her fitness goals. But she's well aware of the stigma surrounding the sport.
(Her last name is being withheld in this article because her employer is uncomfortable with an association between her job and her sport.)
"There still are a lot of people who are limited to the idea that it's about stripping and it's degrading to women. Just the whole idea that patriarchy that men have controlled women's minds, bodies and sexuality," she says.
"In actuality... it's the opposite. Doing pole dancing, I feel empowered."
Saturday will be Lynn's first competition after only performing once before in public — and she says she's ready.
"I feel very prepared, I feel confident, I know I'm gonna kill it."