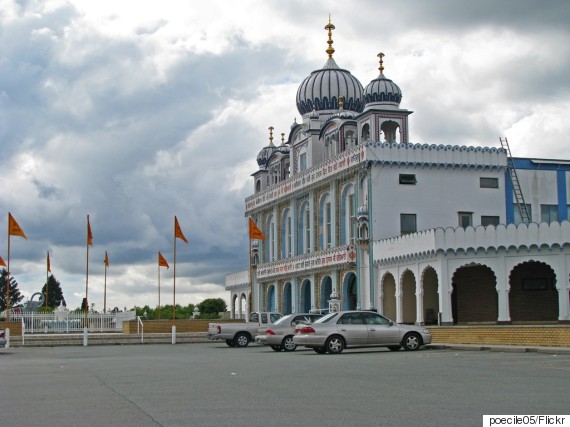 The Nanaksar Gurdwara Gursikh Temple is open 24 hours for prayer and free meals.
Homicide investigators are probing what they believe was a targeted shooting outside a Sikh temple in Richmond, B.C.
Witnesses told CBC News that a man was killed in the parking lot of the Nanaksar Gurdwara Gursikh Temple on Westminster Highway on Friday night.
In a press release Saturday, police identified the victim as Edwin Shek-Yin Cheng, 42, of Richmond. He was known to police, said the Integrated Homicide Investigation Team (IHIT).
It is unknown why Cheng was in the temple's parking lot.
"We have no reason to believe the public is at further risk as a result of this targeted incident," said Sgt. Stephanie Ashton, IHIT media relations officer, in the release. "At this time there appears to be no connection between the Sikh temple and the location of the murder."
Between 50 to 100 people were inside the place of worship, reported CTV News.
Media images of the scene showed a Range Rover with several bullet holes in the window in the parking lot, which has been cordoned off with yellow crime scene tape.
Homicide Investigators called to Richmond Temple after apparent shooting http://t.co/MvVuzmokd7 pic.twitter.com/96wgfX3RCf

— CTV Vancouver (@CTVVancouver) June 6, 2015
BREAKING: killing at Sikh temple in #Richmond tonight, @HomicideTeam taking over @CTVVancouver pic.twitter.com/HTWLxZ9o0m

— Penny Daflos (@PennyDaflos) June 6, 2015
Sikh temples are traditionally open 24 hours to serve free meals to the public and for prayer.
Anyone with information regarding this investigation can call the IHIT tip line 1-877-551-IHIT (4448) or email at ihittipline@rcmp-grc.gc.ca.
Like Us On Facebook

Follow Us On Twitter
ALSO ON HUFFPOST:
Sikhs Host 'Turban Day' in New York City