The owner of a mansion in Montreal's Westmount is offering a little extra to whoever buys their house: A 2011 Maserati that can go from zero to 100 km/h in 4.9 seconds.
The $170,000 2011 Maserati Quattroporte is being thrown in as a bonus for whoever buys 41 Roxborough Ave., a 5,700-square-foot property listed for $3.5 million.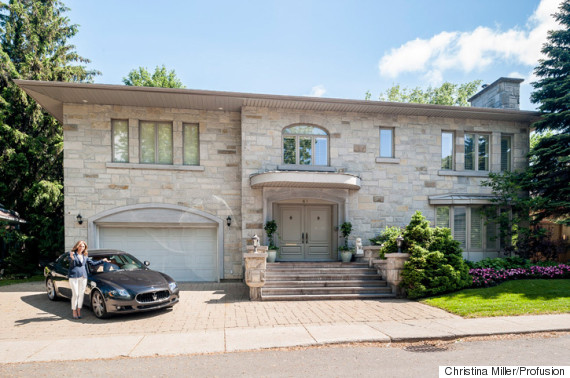 Realtor Christina Miller stands next to a Maserati that is being sold with the house at 41 Roxborough in Montreal's Westmount.
"Competition is fierce for luxury homes on the market in Montreal and the owners of 41 Roxborough decided to offer an added value," realtor Christina Miller said in a statement, adding that the car has only 23,000 km on the odometer.
The car isn't the only fancy thing to come with the five-bedroom, eight-bathroom house; the property includes a wine cellar, a gym, an in-ground pool, a sauna, a two-car garage and even a cigar room with a special ventilation system to keep the smell out.
These days, selling a luxury home in Montreal isn't a sure thing. Some houses have sat on the market for months, including the former home of Brian Mulroney, which spent a year and a half on the market before selling for $5.8 million, well below the initial asking price of $7.9 million.
Then again, that house didn't come with a fancy Italian car.
Check out the Westmount mansion that comes with a Maserati:
Montreal House Comes With Maserati