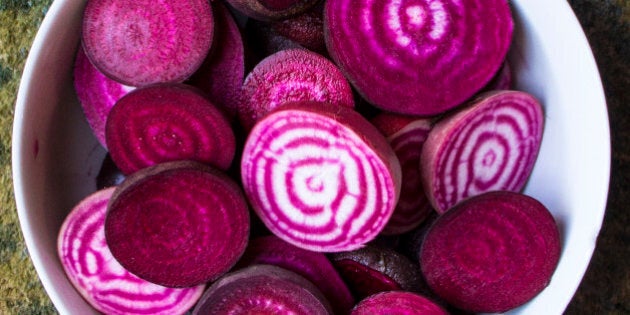 Late June is best time to buy beets and with this many health benefits, there are so many reasons you should.
When shopping for beets, look for crisp and bright green leaves and richly coloured roots, Sloan says. The roots should feel firm and smooth. Smaller beets, on the other hand, are sweeter and more tender than larger ones.
And in terms of buying them organic, Sloan says this is a personal choice. But because it's summer, we also suggest checking them out at a local farmers' market.
"If you plan to eat the beet greens in addition to the root, you may consider organic since the tender green leaves are exposed to more pesticides than the root itself," she says. "That being said, beets are not on the list of fruits and vegetables exposed to high pesticide use."
If you're not planning on eating beets right away, cut off the greens (leave about an inch of the stem to keep the nutrients) and put them in the fridge — you can keep them there for up to three weeks.
Below, Sloan shows us 10 benefits of eating beets including their nutritional punch along with how you can prepare and eat them. How do you like your beets? Let us know in the comments below.