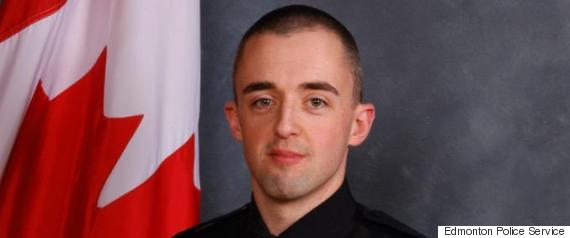 Const. Daniel Woodall was an eight-year veteran of the Edmonton police force.
The people of Edmonton turned on their porch lights with news that a city police officer had died in the line of duty.
Const. Daniel Woodall was shot and killed while trying to arrest a suspect at a home on Monday evening. It was the Edmonton Police Service's first on-duty death in almost 25 years.
Woodall, 35, worked in the hate crimes unit and had eight years' experience with EPS. He was recruited from the Greater Manchester Police in the United Kingdom.
Woodall leaves behind a wife and two young children.
Citizens shared condolences and messages of gratitude on social media, using the hashtag #EPSstrong.
The City is a little darker tonight. The Sun will rise tomorrow, as will we, with heavy hearts. #EPSstrong #YEG pic.twitter.com/yIh1Xz9BTz

— Bryn Griffiths (@BrynMightyMouth) June 9, 2015
Not nearly said enough: thank you to cops everywhere for all that you do, thoughts and prayers to their friends and families #EPSstrong

— Kelsey Lydynuik (@KelseyLydynuik) June 9, 2015
35 yrs since my dad retired but I'm still a cop's daughter. Remembering the nights my mom waited up, my heart's w/EPS families #EPSstrong

— Ruth Kelly (@RuthatVenture) June 9, 2015
If you see an officer at a coffee shop or restaurant around town. Let's pick up the tab folks. #EPSstrong

— Colin Hackett (@trifattytri) June 9, 2015
It quickly turned into a campaign of light, with people sharing images of their lit-up porches.
My light is on for all #FirstResponders #EPSstrong #yeg #ThinBlueLine #BlueLivesMatter pic.twitter.com/c2xr4kxowy

— Allison Salz (@AllisonSalz) June 9, 2015
#EPSstrong Condolences to the friends, family, and coworkers of EPS's fallen officer. We all feel your loss ♡ pic.twitter.com/uJupiXUaG2

— Chelsea MacVittie (@Gargwin) June 9, 2015
The ATB Financial building in downtown Edmonton was lit up blue in honour of the fallen officer.
Our Blue Line.

June 8, 2015, Edmonton, Alberta, Canada. pic.twitter.com/tDVNgMLOa0

— Dave Mowat (@dmowat_atb) June 9, 2015
The last Edmonton Police Service officer killed on duty Ezio Faraone. He was shot on June 25, 1990 while investigating two suspects in a bank robbery.
Like Us On Facebook

Follow Us On Twitter
Also on HuffPost
Edmonton Police Shooting, June 2015