An Edmonton police officer has been killed and another injured while trying to arrest a suspect at a home Monday evening.
Const. Daniel Woodall died of his injuries at the scene, said Edmonton Police Chief Rod Knecht in a late-night news conference.
Woodall, 35, was one of several officers who were executing an arrest warrant for criminal harassment as part of a hate crimes investigation. Shots were fired from inside the home at 186 Street and 62A Avenue, said Knecht.
Woodall, an eight-year veteran of the force who worked in the hate crimes unit, was shot several times. Originally from Great Britain, he leaves behind a wife and two young children.
"This is a tragedy of unspeakable proportions," said Knecht.
"Const. Woodall gave his life tonight to the service of the citizens of this city and this country.... His job was to protect all of us from harm and victimization and from criminal activity. We will forever be in debt to his actions this evening."
Sgt. Jason Harley, 38, was shot in the lower back but is expected to make a full recovery, said the police chief.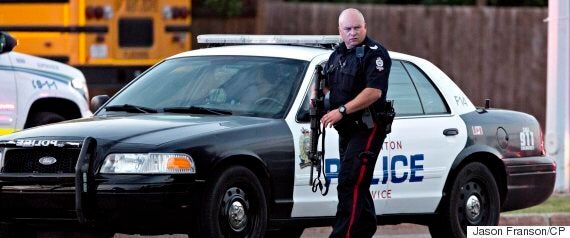 Police surrounded the scene where two officers were shot in Edmonton. (Jason Franson/CP)
Chaos unfolded in the Callingwood area in the city's west end Monday evening when residents reported hearing gunfire.
A man named Ryan told radio station CHED he lives near the shooter and saw the situation unfold.
"I was on my back deck, saw what I thought was a routine arrest," he said. "They had six officers come over to do a routine arrest. They didn't know if he had any weapons in the house, and when they went to breach the door that's when the fire started.
"He did fire on two officers, hit one in the back. I helped the one officer, got him out to the side, got him into the car. The bullet was stopped by his vest, but it did pierce through his skin."
A home in the neighbourhood was soon engulfed in flames and billowing smoke, leading police to evacuate the area.
Ryan said the shooter was using a high-powered rifle and set his house on fire while he was still inside.
"He's a single guy, two kids, wife left him along time ago," Ryan said. "Sits at home every day, he's an alcoholic, just snapped. I don't know what they were arresting him for, but they had a file for him."
Knecht would not comment on the status of the shooter, except to say police did not have anyone in custody but that there was no threat to the public.
The last Edmonton Police Service officer killed on duty was almost 25 years ago. Ezio Faraone was shot on June 25, 1990 while investigating two suspects in a bank robbery.
This is the second police officer to be shot and killed in the Edmonton area this year.
RCMP Const. David Wynn, 42, died in January at a casino in St. Albert, north of Edmonton, while trying to track down the driver of a stolen truck. Auxiliary Constable Derek Bond was seriously injured but survived.
The shooter, Shawn Maxwell Rehn, was out on bail facing 15 charges, including escaping lawful custody, possession of a prohibited firearm and failure to show up to a previous bail hearing on the charges.
Last month, an Edmonton police officer was shot and wounded during an impaired driving stop. The suspect in that shooting was killed.
With files from The Canadian Press, CHED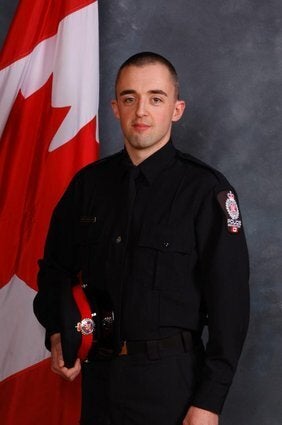 Edmonton Police Shooting, June 2015