Nic Tickner has run almost every kind of race, from marathons to the Ironman.
But the Vancouver athlete's true passion is helping other people push their own boundaries. He volunteers as a visual running guide for his friend, Rose Sarkany, who is blind.
The two of them feature in a powerful ad for Sport Chek titled, "Nic Sweats for This," that was uploaded to YouTube last month. (Watch above.)
The video comes as part of the sports retailer's "What Are You Sweating For?" campaign, which asks athletes to explain why they work out.
Tickner has been helping Sarkany since he reached out to organizers of the BMO Vancouver Marathon and offered up his running expertise to help others.
Sarkany, who has extremely poor peripheral vision and hearing loss, was looking for someone to help keep her safe.
"My vision is like looking through a straw ... I need a pair of eyes to help me navigate through crowds, avoid hazards such as potholes, curbs and overhead branches, and to prevent injuries," Sarkany said in an email to HuffPost B.C.
"I have fallen down ravines, jarred my back due to steps or curbs, knocked myself over road barriers, and had branches whip me in the face ... to come home after an incident-free run is a good day," she added.
Tickner shouts out warnings for Sarkany and lets her know when she needs to turn when they're on the road. They also run tied together with a loose rope, just in case.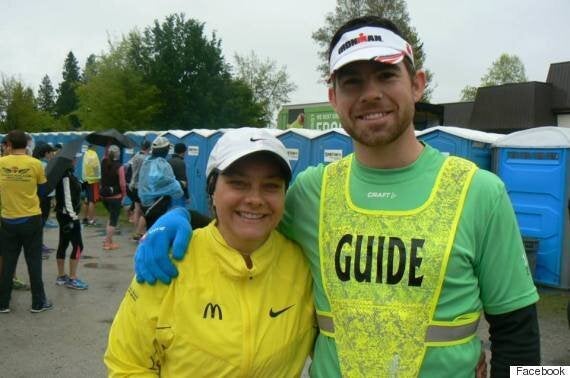 "Not everyone has all the pieces to the puzzle to walk out their front door anytime they like and go for a run," Tickner said.
"If I can be that final piece to the puzzle to help facilitate that feeling I get on race day or getting out for a run, and I know that person is as happy as I am when I am out there ... That is why I do it.
"I haven't looked back, nor in our friendship or guiding. I will continue to do it as long as I am able."
Tickner and Sarkany hope that the video will show people that having limitations doesn't mean you need to slow down.
"My passion is to educate society about blindness and that all is possible, it just takes a little adaption," Sarkany said. "It is true sportsmanship on every level."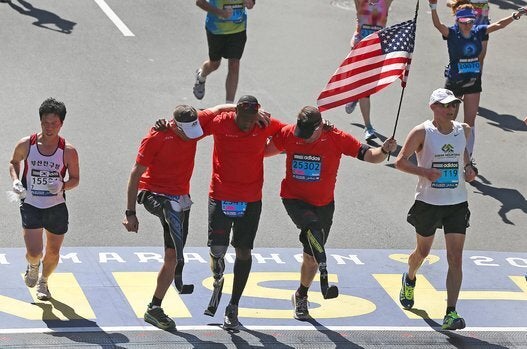 2014's Best Running Photos