OTTAWA — Several senators are hoping Canadians won't take the auditor general's word on their expenses as fact Tuesday when his report is released to the public — given what they believe are serious lapses in his judgment and the audit process.
UPDATE: Tuesday, Auditor General Michael Ferguson said auditors had "spent considerable time gaining an understanding of the approaches taken by Senators to perform their parliamentary duties and functions." Ferguson said senators' views were considered but auditors also exercised their professional judgment to determine whether the activities were incurred for parliamentary business.

In his report, Ferguson said "simply changing or adding to existing rules will not be enough." Some senators needed to be more mindful of the taxpayer when incurring expenses, he said. He also called for an independent oversight and greater transparency in dealing with senators' expenses.

Tuesday, Liberal senator Céline Hervieux-Payette also gave notice of a question of privilege she planned to move regarding the media leaks of the report.
Conservative senator Nicole Eaton — who is fingered in the report — said she feels Auditor General Michael Ferguson should have spent time in the Senate, job-shadowing members to inform himself about what they do both in the chamber and out of it. If he had, Eaton said, his report might have been "a little bit more nuanced."
"I didn't know what the Senate was about until I came here," she told The Huffington Post Canada.
"The first six weeks, I thought, 'Oh God I am back in the convent, this is perfectly awful.' And then you get used to it, you get into the committees and you see what the Senate actually does.
"But I think the AG is like most Canadians. I don't think he has actually spent any time in the Senate, or with senators. So I think right now what's out there is not flattering, unfortunately."
She hopes the public won't be quick to judge and that the media's coverage will be a bit more balanced – that they highlight the work the Senate also does "as opposed to [the image that] we are all crooks who do nothing but sit around all day."
In her case, Eaton disagreed with Ferguson about the use of her travel points, some of which she used to do community work and attend charitable fundraisers, she said. She repaid the money in February when she found out that the auditors disagreed with her take.
"I wish that when I had done it Senate finance would have said, no you are not allowed to fly home to a hospital retreat, or you are not allowed to fly home to the Pontifical Institute [of Mediaeval Studies] board meeting, but they didn't," she said.
What also bothers her, she said, is that the report has been leaked without senators' having a chance to see it.
"I think that upset most of us," she said. "I don't know why the AG didn't summon us all last Wednesday or Thursday and explain in a closed-door thing, this is what I found. I found that unfortunate."
For five days, ever since Ferguson handed over his report to Senate Speaker Leo Housakos on June 4, senators have seen the details of the audit laid bare in the newspapers and on TV. Some senators have felt defenceless against the criticism.
"What is prejudicial is that our names are in the papers without the report being released and with dollar figures attached, as if, if we pay back the money, it's good, and, if we don't, it's not," Conservative Senator Jean-Guy Dagenais said.
"They are portrayed like improper expenses when, in fact, they are not. In my case, I will absolutely go into arbitration, because they were expenses that were justified. So I don't understand."
Dagenais, a former policeman, said he found Ferguson's audit "lacking" and he plans to issue a press release Wednesday in which he "won't go easy" on the AG.
"If you don't know what the job of a senator, organize yourself to figure it out before you release a report," he said.
Dagenais, who has $3,538 in questionable expenses, said the auditors seemed confused about parliamentary work and partisan work, or in his case, events he attended on behalf of a minister.
"Even I, when I arrived to the Senate, I didn't understand much of how the place worked, to be honest, but that is why every time I incurred an expense I would call the administration to make sure that everything was by the book," he told HuffPost.
"That's why I find it curious that I am told now, 'you shouldn't have done this expenditure, it was not appropriate.' I'm sorry, every one of those expense claims was verified by the administration," he said.
"So perhaps the AG didn't understand the job of a senator, a parliamentarian."
Dagenais said the auditors didn't look at all the facts in his case, they didn't cross-reference dates, and hours, or even look at physical evidence when they decided that his staff member didn't accompany him on government business.
"How could he say that my assistant wasn't with me, when there are pictures to prove it?" he asked.
One Conservative senator, who saw the report early, was livid at Ferguson's conclusions — not about his own expenses, some of which he agreed where incorrect, but by conclusions the AG made about other senators.
"It's appalling. Sharon Carstairs, [Bill] Rompkey, [Pierre-Hugues] Boisvenu on [the] housing issue, the auditor general is totally off-base," he told HuffPost.
"In all cases, and there may be more, these people lived where they said they lived. The fact that they spent more time than in their home province is bogus. That does not matter. The fact that they travelled from Ottawa to there and back does not matter.
"What matters is: Where was their primary residence? Their primary residence is where they said it was…. So I have no idea why they would be referred to the RCMP," he said.
Carstairs, Romkey and Boisvenu were reportedly flagged for $7,528, $17,292, and $61,076, respectively.
"It's bogus, it's all bogus," said the senator, insisting on anonymity. "I am so angry…. You can't be sending people to the RCMP for this. There is nothing wrong with what they did. There are some that are horrible. They should go to the RCMP, right? But some of these are not. Are not at all."
On Friday, the Speaker of the Senate bypassed the committee structure and sent cases flagged by the AG to the Mounties.
Liberal Senator Joseph Day, whose case has not been referred to the RCMP, said he has "full faith" that once he and most of his colleagues see the report, they will be able to explain their situation.
But he also feels members of the upper chamber were treated "seriously unfairly" by the leaks of the report, with the story out there and their having no way to give their side of the story.
"I'm a very active senator," said Day, who is known for his work on veterans issues. "The fact that there is a $21 million audit going on, I would fully expect that there are some things that they might find that are a little different according to their interpretation. So we will see."
"What we are talking about is money that I spent, thinking I was doing this for the Senate," he said.
Day, who reportedly has $19,634 in expenses flagged, wonders whether the AG's report will create a chill that both discourages senators from travelling and also makes anyone question whether they would want to be a senator.
"[If] somebody was asking me if I wanted to be in the Senate, would I want to put myself into that or would I find another way to serve the public? There are a lot of people going through that mental exercise," Day said. "If you become less active, then you start doing something else. And when you start doing something else, you start wondering why you are here. There is all of that that starts going through people's mind as this process unfolds."
Day said the whole experience has taken a toll on senators' families and their staff.
"They are feeling this responsibility so it's tough…. They fill out the forms, but the buck stops here," he said, pointing to his chest.
"I hope I will be able to convince people that what I have been doing has been in the best interest of the public and not for personal gain, because that's the case."
Ferguson's report on senators' expenses will be publicly released at 2 p.m. ET. The report, which cost $21 million and took nearly 18 months to complete, covers all sitting senators' expenses from April 1, 2011, to March 31, 2013.
The expenses of Conservative senators Doug Finley and Fred Dickson, both of whom have died, were not audited. Neither were the expenses of Liberal senator Joyce Fairbairn, who retired early suffering from Alzheimer's.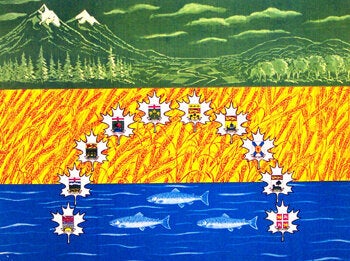 142 Rejected Canadian Flag Designs