What do you get when you ask a Haligonian to put two of the greatest things in the world together?
Something like the "doughnairnut," that's for sure.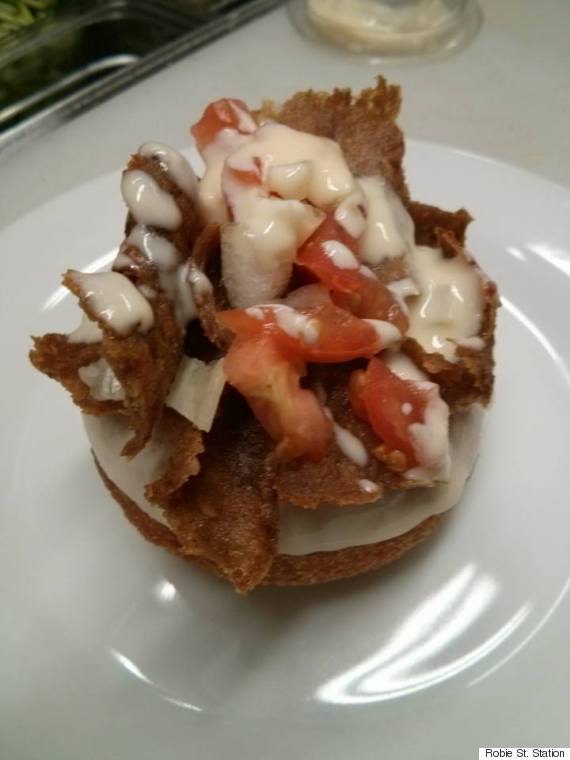 Halifax eateries Robie St. Station and Tony's have joined forces on a dish that combines fried dough with the Turkish- and Greek-inspired wrap that Nova Scotians love so much.
The item began as a joke after Robie St. Station owner Kayleigh Burns made a "Samoan doughnut" that someone mistook for a "samosa doughnut," CBC News reported.
"I had to explain what it was and then I was like, well I'll add that to the books and maybe I'll do a donair doughnut while I'm at it," she told the network.
And so a new delicacy was born.
The "doughnairnut" is the latest in a series of one-off doughnuts that Robie St. Station has been making on weekends for months now, Metro News reported.
No doughnut concoctions have ever been repeated.
Tony's is providing donair meat and sauce, which will be spread atop one of Robie Street Station's yeast doughnuts, along with green onions and tomatoes.
Burns plans on making 200 "doughnairnuts" to be sold at $4 apiece.
"I expect this one to do better than all the ones before," she told Metro News.
This isn't the only time we've seen doughnuts form part of such a strange mix.
Kane's Handcrafted Donuts in Boston came up with the "Dowich Sandwich," which is a doughnut cut in half with lobster in the middle.
Somehow, we can see that succeeding on the East Coast, too.
Like Us On Facebook

Follow Us On Twitter

ALSO ON HUFFPOST: