Norman Raddatz, 42, allegedly mounted an online campaign of "extreme" bullying against another man in the city last year.
The harassment was specifically anti-Semitic, police spokesman Scott Pattison said Wednesday, and the target and his family became so concerned for their safety that they filed a complaint a few months ago.
Pattison wouldn't provide more details about the alleged harassment but police previously said evidence in the case dated back to February 2014.
Eight officers went to Raddatz's home Monday night to serve him with documents ordering him to appear in court on a charge of criminal harassment. They also had an arrest warrant stemming from a bylaw offence.
After the officers knocked, they got a battering ram to break in. That's when bullets started flying through the front door.
Const. Daniel Woodall, a 35-year-old officer in the hate-crimes unit, was killed at the scene. A second officer, Sgt. Jason Harley, 38, was shot in the back but was saved by his bullet-proof vest.
The other officers were pinned down by a barrage of bullets over the next 10 minutes, Chief Rod Knecht told reporters earlier this week.
More than 50 bullet holes were found in the house and garage across the street.
Moments after the shooting stopped, the house started on fire. Police later found a body in the basement of the burned-out home and believe it is Raddatz, although an autopsy is needed to identify the remains and the cause of death.
Neighbours have described the refrigerator repairman as an unfriendly, divorced father who didn't mow his lawn or shovel the snow in front of his bungalow. He also put dog poop on the top of his fence to irritate those living next door.
Court documents show he was charged last year with seven bylaw offences, including parking an RV outside his home for longer than allowed.
Although he once ran a repair business called North Summit Mechanical out of his house, neighbours said he had stopped working. A bank had also foreclosed on the home and it was for sale.
Don Johnstone said he worked in the 1990s with Raddatz at another refrigeration repair company.
He was a decent mechanic and seemed normal, but had a reputation as a "racist," he said.
"He would rant and rave about different things," said Johnstone.
He added that he was still surprised when he learned Raddatz was the suspect in the officer's killing. "I didn't think I knew anybody like that."
Many people across Edmonton pinned blue ribbons to their chests and tied them around parking posts Wednesday to honour Woodall. A trust fund has also been set up for his wife, Claire, and their two young sons.
Police said they are waiting for some of Woodall's relatives to arrive from the United Kingdom before they plan his funeral.
Woodall served four years with the Greater Manchester Police before joining the Edmonton force in 2007.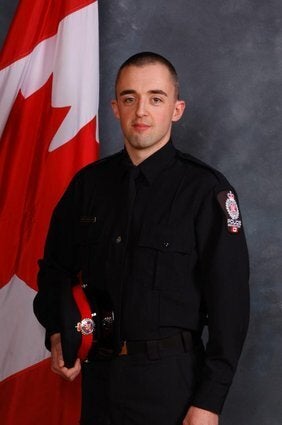 Edmonton Police Shooting, June 2015