Some Americans may be forgiven for thinking they live on Tatooine when they watch the sun set in parts of the country these days.
Areas in the Midwest and East have been blanketed in a haze of smoke from a series of wildfires blazing in Canadian provinces including British Columbia, Saskatchewan, Manitoba and the Northwest Territories, The Weather Network reported.
The jet stream has blown smoke from the fires south into the U.S., leading to "moderate" air quality in the state of Maryland, according to AirNow and The Washington Post.
The smoke is sitting high in the atmosphere, at an altitude at which it can't be smelled, said USA Today. But it also helped to create some spectacular sunsets from seen from Minnesota to the nation's capital.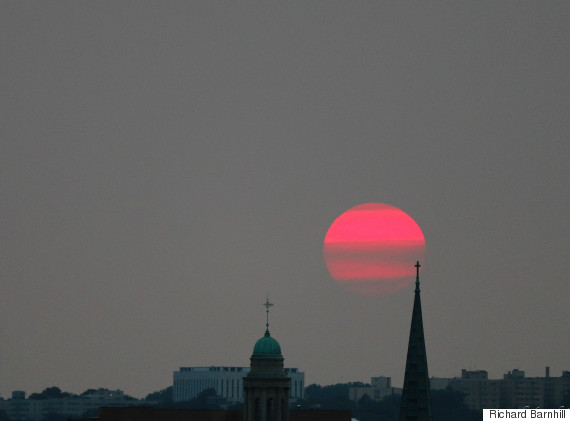 Sunset over Washington, D.C. Image via Richard Barnhill.
The sun appears this way because its light has to travel through a smokier atmosphere, said The Weather Channel.
Air molecules spread blue and green waves of light, leaving only the red, yellow and orange hues in the sky through a heavier atmosphere. It's an effect that makes the sun look like it's shining down on Luke Skywalker and the Jawas.
Here are some photos people shared of the sun behind a haze of smoke throughout the U.S.:
Look at how #smoky (Canadian forest fires) the sky is flying into #Chicago this AM. (Pic from Christopher Y.) #ilwx pic.twitter.com/VswJhyxyo8

— Bill Graul (@news8bill) June 9, 2015
The size of smoke particles scatter other colors, pink and orange are left to be seen. http://t.co/VYYAZT05ro pic.twitter.com/tP8SilckOl

— Capital Weather Gang (@capitalweather) June 10, 2015
Sunset was even more brilliant as smoke from wildfire in Canada blew over Ohio. pic.twitter.com/VcNc6yLa0c

— Chris Bradley (@Chris10TV) June 10, 2015
Wildfire smoke drifts into USA, creates red sunrises, sunsets. Photo: David Kahn, Your Take http://t.co/PJD0QP5KNB pic.twitter.com/P8kR4Jxvf1

— NorthWest Cable News (@NWCN) June 10, 2015
@capitalweather I wonder whether early mammals witnessed similar skies during the K-T extinction event. pic.twitter.com/rfRDPFUO97

— Raphael Perrino (@raphaelperrino) June 10, 2015
@capitalweather tonight's sunset pic.twitter.com/gGO8OBcvyX

— _b_ (@brandxnr) June 10, 2015
@suepalkafox5dc @SteveRudinABC7 @capitalweather @Ginger_Zee Impact of Canada's wildfires on tonight's DC sunset. pic.twitter.com/gTilJRSYGw

— Joanne Kane (@jodikane) June 10, 2015
Check it out DC - Gorgeous red sun! @capitalweather @weatherchannel @JimCantore @FamousDC @dcfocused #myweather @AMHQ pic.twitter.com/x23pKusXVC

— Jim Havard (@JimHavard) June 10, 2015
Bright orange-red sun caused by haze from Canada wildfires, as seen Monday at Enger Park in #Duluth pic.twitter.com/WcMj0LsnEG

— Andrew Krueger (@akpix) June 9, 2015
That eerie sun over Chicago this morning? Blame Canada. @cstbreaking explains http://t.co/uAr5EYoNgZ pic.twitter.com/t8wGVpitop

— Chicago Sun-Times (@Suntimes) June 9, 2015
Haze over the sun caused by the wildfires in Canada. Pretty neat in a strange way. @Chris10TV pic.twitter.com/uiHepkkY1b

— Erin Lamb (@ErinLamb007) June 10, 2015
Like Us On Facebook

Follow Us On Twitter

ALSO ON HUFFPOST: