A celebrated American author appears to be outraged that Steven Spielberg killed a triceratops, just in time for the release of "Jurassic World" on Friday.
Last year, Spielberg trended on the Internet after a photo emerged showing him sitting next to an animatronic dinosaur from his 1993 film, "Jurassic Park."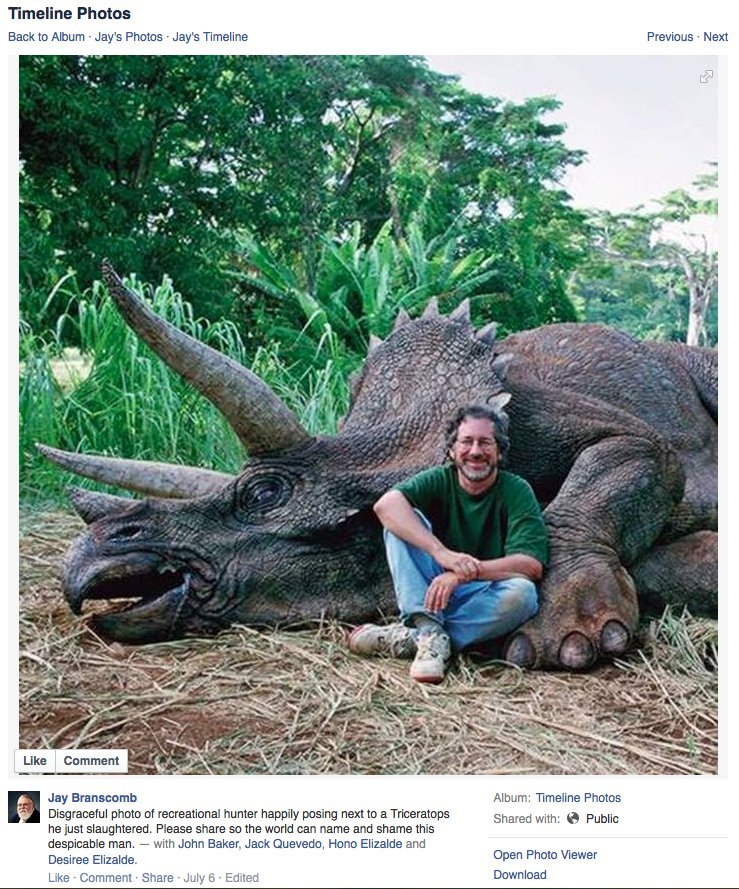 From there followed a series of posts from people who appeared "outraged" that the Oscar-winning filmmaker would have killed a long-extinct animal.
Many of those posts turned out to be sarcastic.
The image resurfaced on Twitter with this post on Tuesday.
This guy thinks it's cool to kill defenceless animals then take a selfie. Jerk. pic.twitter.com/WbgMklrd9u

— Chris Tilly (@TillyTweets) June 9, 2015
And from there followed additional comments by Pulitzer Prize-nominated author Joyce Carol Oates:
So barbaric that this should still be allowed... No conservation laws in effect wherever this is? https://t.co/hgavm9IBaM

— Joyce Carol Oates (@JoyceCarolOates) June 9, 2015
She hasn't indicated that this was meant as a joke in any way.
Now, Oates has been rightly criticized for certain tweets in the past.
She once linked rape culture to Islam, and said "'Cat food' in China actually is."
But this? This is something new. And we can't quite make heads or tails of it.
Salon's Joanna Rothkopf thinks it wasn't a joke, that she likely didn't click on the photo and thought Spielberg was posing next to an elephant.
The Guardian's Alison Flood agreed, though she hoped that Oates actually thought the director had killed a dinosaur.
We think it's possible that Oates was joking. But it's more fun to pretend she wasn't.
Like Us On Facebook

Follow Us On Twitter

ALSO ON HUFFPOST: