A show suite at the Calgary Global Petroleum Show this week looked like any other high-end condo for sale — except this is the luxury version of a work camp.
Thousands of Canadians who leave their homes to work on resource projects for weeks at a time usually live in sparse rooms with a bed, a small TV, and communal bathrooms.
But some who work in northern Alberta's oilfields may soon be living in the lap of luxury.
Construction is set to begin this fall on Duvernay Point, a $15-million, four-storey building in Fox Creek made out of stackable steel-frame modules.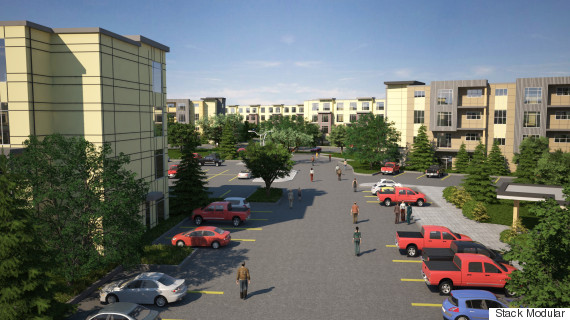 The project from Stack Modular and Mueller-Warden Projects in Calgary unveiled a display suite this week, and boy is it swank.
From the outside, the stackable units look exactly like an apartment building. Inside, each fully furnished 980 sq.-ft. suite has two bedrooms, two full bathrooms, and in-suite laundry.
"It provides a real home environment instead of a hotel or work camp. The revolutionary modular design means from the time construction starts, people can be moving into their own apartment in just six to eight weeks," said project director David Weiss from New York-based developer Primco Holdings in a news release.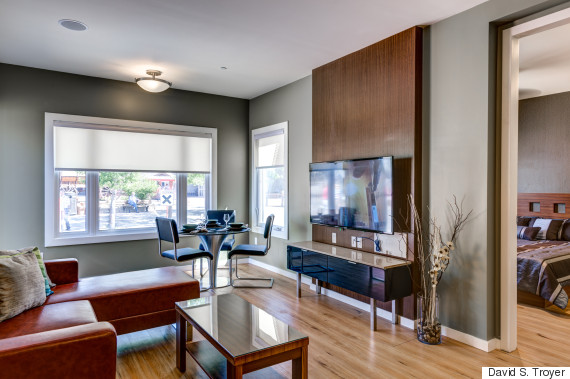 He said this kind of development will help attract retail and commercial businesses to smaller communities, so residents don't have to drive so far for supplies. "That's what every small community is looking for, whether it's an LNG project in British Columbia or a mining town in Northern Ontario," he said.
Fox Creek is a town of roughly 2,000 people but can swell by 8,000 oil and gas workers who come to the area for work. Providing services to this "temporary" population forced the town to hike hotel business licence fees from $75 a year to an annual average of $100,000, reported The Calgary Herald. That's a jump of of 133,233 per cent.
Agents in Fox Creek will be offering one-year leases on the 56 units in phase one to companies and families. Monthly all-inclusive rents will be about $3,400, said Weiss.
"Inside and out, you can't tell its modular, and that's what we wanted," said Scott Hendrickson, vice-president of Stack Modular.
Eventually, the plan is for a complex of 700 apartments in 11 four-storey buildings on over 22 acres.
Mueller Warden Projects designed the modules, while Stack Modular builds them at its factory near Shanghai. Canadian inspectors ensure North American standards are maintained throughout the building process, said the company.
Stackable Modular Homes Work Camps Built By Calgary Company