The "X-Men" foes have always been frienemies. But the actors who play them share a touching bromance.
Patrick Stewart and Ian McKellen, who play hero Professor X and villain Magneto in the "X-Men" movies, sealed their bromance with a kiss at the premiere of the latter's film "Mr. Holmes" on Wednesday.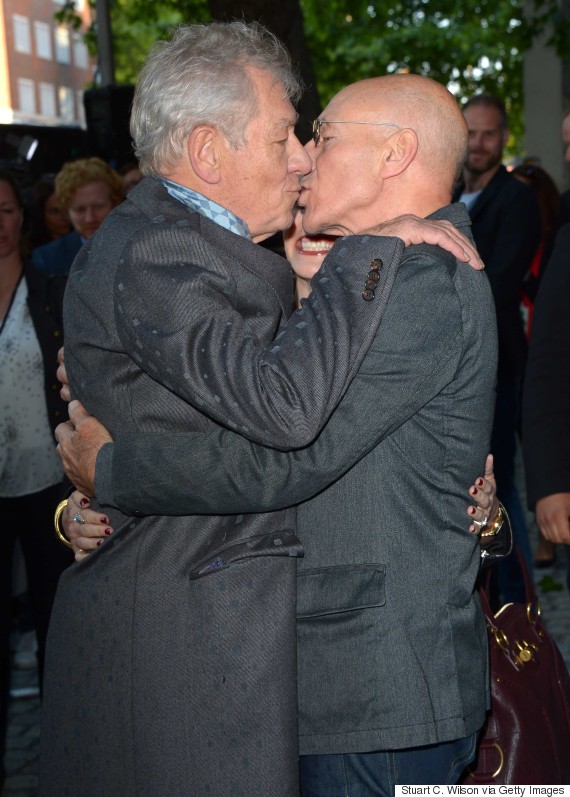 Stewart and McKellen are longtime friends who starred together in Broadway productions of Samuel Beckett's "Waiting for Godot" and Harold Pinter's "No Man's Land" in 2013.
Their time on stage also gave social media users some insight into the deep friendship between these two legendary actors.
They tweeted photos of themselves touring New York.
Liberty! #gogodididonyc 14 shows left! pic.twitter.com/oP5PdOvkDE

— Patrick Stewart (@SirPatStew) March 20, 2014
Skyscraper! #gogodididonyc @TwoPlaysInRep 10 shows left! pic.twitter.com/4ezBQRfmdd

— Patrick Stewart (@SirPatStew) March 22, 2014
Auctioning our Coney souvenir T-shirts to benefit @CityHarvest #gogodididonyc Take a look! http://t.co/pmkEwTGWpk pic.twitter.com/kUzXqO2tnu

— Patrick Stewart (@SirPatStew) March 24, 2014
And even showed themselves to be rival football fans.
Football! pic.twitter.com/rdtXP6IGTE

— Patrick Stewart (@SirPatStew) January 31, 2014
The bromance between these two runs deep enough that they've considered doing a buddy comedy, they told Entertainment Weekly earlier this year.
We're sure it would be entertaining. But these two just seem to get along too well for that to work!
Like Us On Facebook

Follow Us On Twitter

Also on HuffPost
X-Men: Days of the Future Past