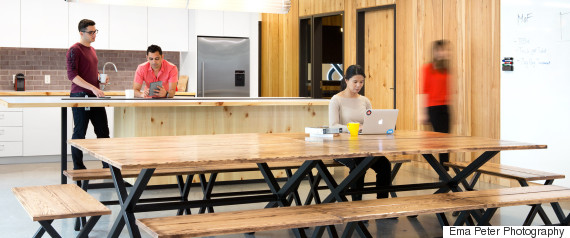 Many Vancouver tech companies embrace fun or quirky for their workspaces, but the Dun & Bradstreet Cloud Innovation Center decided to go minimalist for its new office.
The company has grown from a dozen employees to 60 in the last year, necessitating a move to the 14,053 sq.-ft. space on Robson Street spread over two floors — plus a 3,900 sq.-ft. wraparound outdoor deck.
"The design concept is West Coast modern, with a raw edge," said founder and president Mark Cunningham. "We wanted to capture not only the natural beauty of Vancouver but the burgeoning high-tech side of the city in the design as well."
He brought in Vancouver-based Evoke International Design — the company which also shaped Pixar Canada's office and Hawksworth: Bel Cafe — to create a workspace that incorporated suggestions from staff.
They said health and well-being is important, so a "movement room" was created for everything from yoga to TRX workouts. Developers also stated they didn't want to sit all day, so automated sit-stand desks were built in.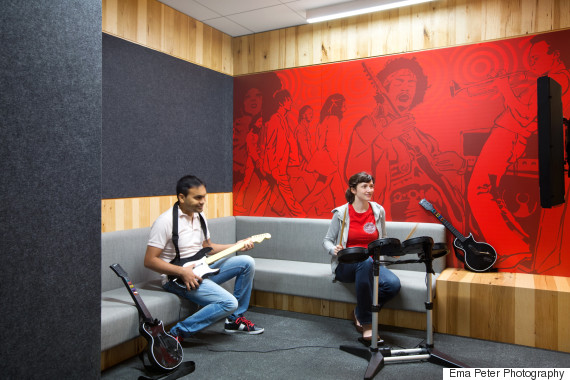 "Lots of tech companies include more fun, whimsical features in their offices, such as ski chalets, or quirky furniture," said Cunningham. "While I love this approach, we wanted to do something different and pare things down with an ultra modern, stylish and highly functional design."
The office also reflects the heritage of Granville's entertainment district in which it's located. The meeting rooms are named after Vancouver live music venues like the Vogue, Biltmore, Commodore, and Orpheum. People can jam or play Rock Band in the sound-proofed music room.
The Vancouver team is a software division of Dun and Bradstreet, a global company with 174 years of history, said Cunningham.
"I wanted to make the office a place in which the team would feel a sense of pride and ownership too. We spend eight hours a day here, so why not make it somewhere we actually enjoy spending time?"
Like Us On Facebook

Follow Us On Twitter

Follow Us On Instagram