This isn't your typical transformation photo — but it's the kind of image we need to see a lot more of.
Brianna Neely posted the progress picture on Instagram last month — not to brag about her weight loss or muscle gain, but to point out how happy she's become since gaining weight.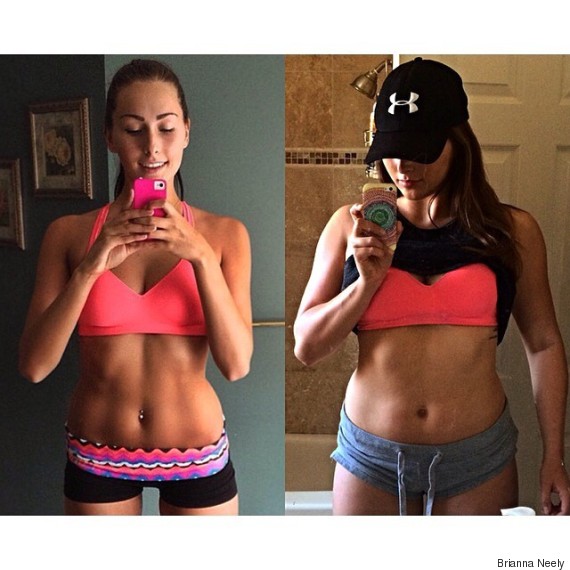 As part of the caption, she explained:
"After a long battle of years of bad body image, I have finally found some peace. The point of this post is that not all transformations (for overall health) are going to look the same. Some of us will lose weight, some will gain. I haven't stepped on a scale in over 6 months and don't have any intentions to. My worth is more than a number. The shape of my body does not dictate my health, both physically and mentally.... remember that you are not your body, you are so much more."
Neely often posts body-positive photos on Instagram to encourage her 20,000+ followers, but it's taken the 21 year old from Coquitlam, B.C. a long time to accept herself just the way she is.
After struggling with body image for years, Neely said she decided to compete in a bodybuilding competition last fall. She started a strict training and diet regimen, and slimmed down quickly, replacing body fat with muscle.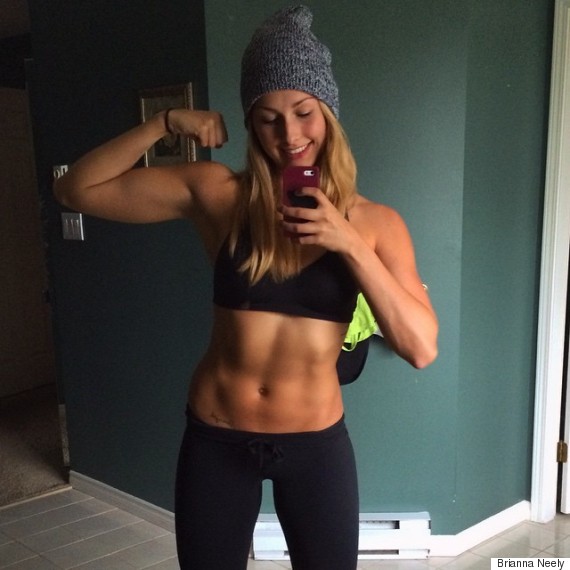 "I felt SO good about myself," Neely said in an email to The Huffington Post B.C. "[I was] looking the best I've ever looked."
But as the weeks went by, Neely said personal stresses and the pressure of two customer-service jobs started taking a toll. As competition day loomed closer, she and her trainer changed her diet to make up for lost progress, cutting what little carbs she had left — but that only robbed her of her energy.
"That's where my mental state spiralled downhill into a two-month battle with binging and purging, and extremely poor body image," she said. "What started out as a fun, but challenging journey turned into a continuous cycle of being hungry, waiting for my meals, thinking of food, feeling sad and checking the mirror over 100x a day to make sure I still had a flat stomach.
"All I wanted was to be leaner and leaner, but my body knew better. It fought me for weeks, showing me signs that I wasn't taking care of it anymore — It begged for me to stop. I knew something was wrong but I didn't want to give up on something I started."
Neely stopped getting her period, her skin broke out, and the binging and purging continued. Despite her body's protests, she kept training for competition day and finished what she'd started — then, she told herself things had to change.
"I knew my eating habits were disordered and my body image was skewed," she said. "Right after my show, I convinced myself to do what ever it took to fix the damage I had done to my body and my mind."
In the six weeks following the competition, Neely didn't go to the gym once. When she did start working out again, she trained gently. She started eating what she wanted, when she wanted in "complete" freedom, learning how not to feel guilty about her meals.
She also worked to stop the binging.
"It took me a while to figure out what being full was," she said. "That included eating the entire contents of my fridge and pantry until I couldn't move."
Now working as a nanny, Neely said she's in a much better place — and that's something worth sharing.
"I am much more overall health-motivated than I used to be, being that I care about my emotional and mental health just as much as my physical," she said. "Mental health is often overlooked, in my opinion, when on a journey to a healthier, fitter body... 'Healthy' and 'skinny' do not always correlate."
As for her unconventional transformation photo, she says she's happy to put herself out there if it means helping others.
"It's OK to not be OK and still love yourself. You don't need to be or look like anyone else to have worth. You are beautiful just the way you are. And I really want to inspire others to see that in themselves."
Like Us On Facebook

Follow Us On Twitter
ALSO ON HUFFPOST:
AskMen's Top Women Of 2015