Ever wonder what makes a romance last? Or how people stay together despite what life throws at you? With It Takes Two, The Huffington Post Canada is talking to couples from across the country — young, old, married and otherwise — who have the answers to these questions.
Names: Ruby and Kevin Fremon
Ages: 33 and 37
City: Los Angeles (Ruby is originally from Vancouver)
Occupations: Transformational life coach and creative director + Co-Founder
The year you met: 2012 online — 2013 in person
How long have you been together: Two years, three months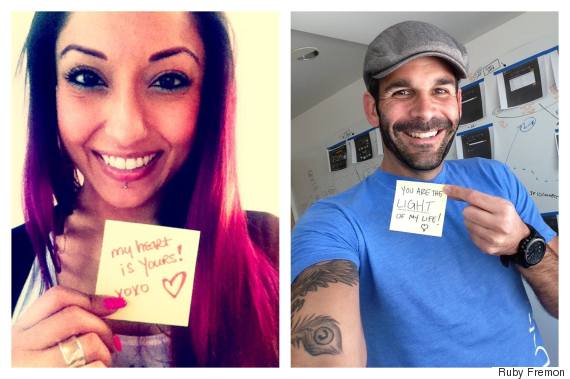 It all began with photography site Instacanvas (now Twenty20). I (Ruby) entered a contest asking people to tweet and share their favourite images, and she selected one with a quote on gratitude: "Gratitude is the open door to abundance."
A month later, I received an email from Mr. Kevin Fremon, co-founder of Instacanvas, and much to my surprise, I won! He emails back with details of the prize, and I reply, showing my love and support for Instacanvas (secretly hoping for a job). Kevin writes back, including a DJ mix in his email. This is when I begin to stalk Kevin on social media, adding him on every single platform, just as any social media strategist would do. Thus begins our email friendship.
I wasn't looking for a partner at that time, as I had just ended a long-term abusive relationship. I needed to work on myself. When we began communicating, I truly didn't feel as though I was worthy of a man like him. I was so low on myself after years of self-destruction that I couldn't even fathom that a man like Kevin would be genuinely interested in a woman like me.
One day (very soon after the initial few emails), we hinted at a possible phone number exchange and begin texting. Texting turned into phone calls and phone calls turned into one unforgettable Skype session.
I knew from the moment I laid eyes on him during our first Skype call — we both knew. We paused for a solid five to seven seconds and just gawked at each other. There was something so familiar about it all.
Our friendship continued for seven months as we realized just how connected we truly are. January 2013 is when we decided to take our friendship to the next level, and an online, long-distance relationship began!
Everything happened pretty fast after that. After weeks of sending each other heart emojis, I finally caved and texted Kevin those three important words: "I love you." We were now both free to tell each other "I love you" anytime we wanted – and let's just be clear, it's a lot.

He proposed in May 2013, three months into our relationship. He had just met my entire family in Vancouver and at some point during that dinner, he asked my dad for my hand in marriage.
Once we got back to my place, he proposed. He had this big plan of walking me outdoors on the Cambie St. bridge to see the stadium lights ... but it was pouring rain, so he proposed in my apartment. I was blown away and burst into tears as I yelled "yes!" The following week, we began our visa paperwork to get me to the U.S. on a more permanent basis.
We got married in California in January, 2014 (see the video above!).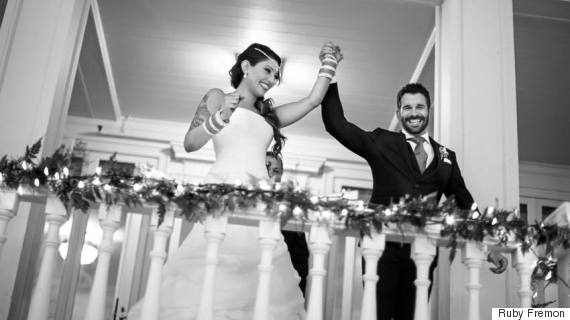 There's no "making it work". It just works. We communicate openly and honestly about everything. We aren't afraid to show love and we support each other 100 per cent.
My favourite thing about Kevin is the way he looks at me with his googly "totally in love with you" eyes. Kevin's favourite thing about me is how I show him love through my awesome cooking.
Our biggest hurdle has been the visa process. It took 15 months of paperwork, fees and interviews, but it was worth it.

Romance is a part of our daily lives. We tell each other what we love most about each other daily, and we hug and cuddle a lot. We also love to have date nights and adventures where we can just let loose and have fun together.

Be honest. Be real. Communicate about everything. And tell each other what you love most about each other daily — it helps to grow the level of appreciation for each other.
I think the biggest misconception about love it that it takes work. Real love doesn't take "work"... it just is; it flows and never ever feels like work.
Do you have a love story you want to share? We want to hear it! Email us at canadaliving@huffingtonpost.com.
Also on HuffPost
Married Couples: Then And Now