An Edmonton transit peace officer is asking Albertans to put their hands up, but not for the reasons you'd expect.
Halley Barrantes dropped a freestyle verse at Edmonton's Churchill Square to a lively crowd on Thursday night. Videos of the officer's breakdancing and rap were originally posted on Facebook, and, according to CTV News, have since gone viral with more than 27,000 views.
"A lot of it comes from my heart," Barrantes told the newspaper. "Coming to grips with what happened to Const. Woodall, my freestyle there gave a shout out to him. I said 'put your hands up to the one who gave his life up.'"
Barrantes intended to showcase this tribute to his fallen law enforcement colleague and the community with his rap.
"I think it is vital for us to show them that we are human and we do care about the culture and not just care about the culture but we are part of the culture too," said Barrantes to CTV News. "Being a Christian, having that worldview, doing my music I want to portray positive living, positive aspects of society especially when it comes to the parallel between Christianity and law enforcement."
Taking pride in his performance and its reception, the beatboxing officer also told the network he "shut it down" by "drop[ping] some rhymes."
Check out Barrantes' performance in the video above.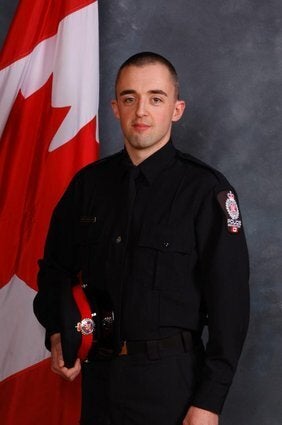 Edmonton Police Shooting, June 2015