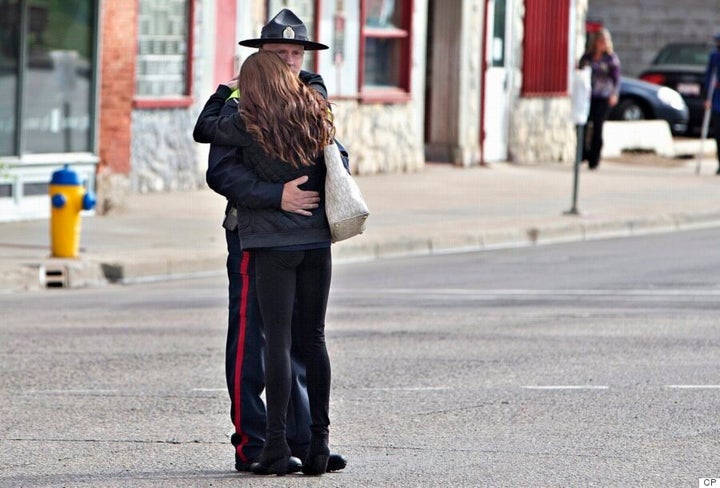 A photo taken by a Canadian Press photographer summarizes how Edmontonians felt on Wednesday.
Jason Franson captured a hug between a pedestrian and an officer before the regimental funeral for Const. Daniel Woodall.
Thousands of people lined downtown streets to say goodbye to the Edmonton police officer killed "doing a job he loved."
"He served faithfully, modestly and proudly with an incredible depth of commitment," said Edmonton Police Chief Rod Knecht. "The positive energy has lifted us all during these very dark days. It is goodness that must continue."
He thanked Woodall's two young sons for sharing their dad with the city "if only for a short time."
Outside, the procession route towards the conference centre was lined with blue ribbons tied to trees and lamp posts. Some people stopped to shake hands with officers.
Woodall was a native of Manchester, England. His friends and family from the United Kingdom flew in for the ceremony.
In a moving eulogy, longtime friend Dave Ainsworth said he'd miss Woodall's "quick wit and terrible sense of humour." He added his friend was the kind of person to laugh the loudest at his own jokes.
Woodall moved his family from Manchester to Edmonton in 2007.
"He was first to step up. He had my back and I had his. His biggest fear was letting you down. He had compassion when he needed to and strength when required," said Ainsworth.
"He couldn't have become this man if it wasn't for his Claire," an emotional Ainsworth said to Woodall's widow, who encouraged him to go on with his speech.
The 35-year-old hate crimes officer was killed on June 8 after attempting to arrest for a local man suspected of bullying a family with anti-Semitic threats.
Woodall was hit by gunfire after high-powered shots were fired through the front door of the suspect's house. He died from his injuries, while another officer was wounded and later released from hospital.
Books of condolences have been set up in lobbies of six police stations across the city. Email messages are also being accepted to be included in the books.
A trust fund has also been set up for Woodall's family. Contributions can be made at any RBC branch in Canada.
With files from The Canadian Press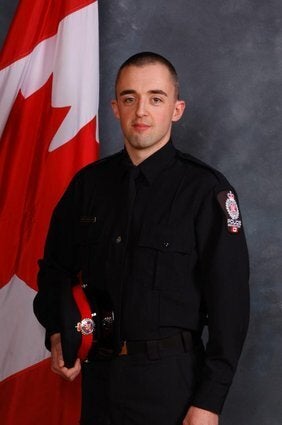 Edmonton Police Shooting, June 2015