Here's a happy reminder that imagination doesn't fade away completely in adulthood.
Earlier this month, six-year-old Owen and his stuffed tiger Hobbes were separated for five days after the handmade toy was left behind when his family boarded a Houston-bound plane at Tampa International Airport.
Hobbes, of course, is named after the beloved character created by Bill Watterson.
When Owen realized his pal Hobbes was gone, he became heartbroken and distraught. His mother and aunt called the airport's lost and found office, asking for help in finding the toy tiger.
A janitorial crew eventually found Hobbes near a children's play area and delivered him to the Airport Operations Centre. There, the toy tiger met manager Tony D'Aiuto.
Inspired by a story from earlier this year about museum staff in the UK who went above and beyond to give a boy's lost toy lion a once-in-a-lifetime adventure, D'Aiuto decided to do the same for Owen.
Hobbes checks out the air traffic control tower: "Looks like a storm's rollign in!" Credit: Facebook
With the help of airport police and operations staff, D'Aiuto orchestrated a big adventure for Hobbes. Owen's mom, Amanda Lake, was reassured the toy had been found and would be waiting at lost and found when the family returned.
She was also told to pass on a message to Owen that Hobbes was about to embark on an "adventure" of his own while the family was vacationing. Lake, thrilled she had update for her son, had no idea what that meant.
D'Aiuto's used his lunch hour to take Hobbes on a tour around the airport, making new friends along the way.
Craving a snack, Hobbes pays a visit to Carrabba's for some gelato: "Blood orange sounds pretty good." Credit: Facebook
"Just helping this guy deliver some luggage at the Marriott. Don't mind me." Credit: Facebook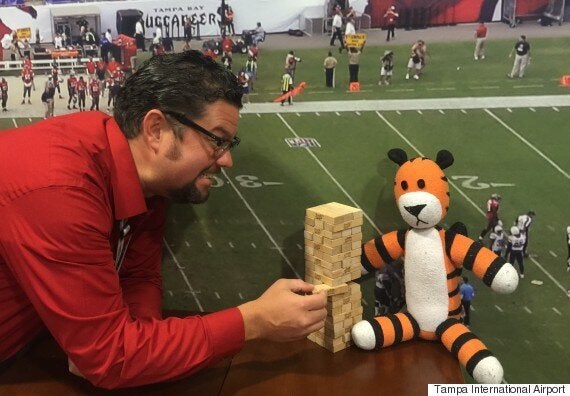 Hobbes plays some Jenga. Credit: Tampa International Airport
"Broken toilet at Airside E? We're on it!" Credit: Facebook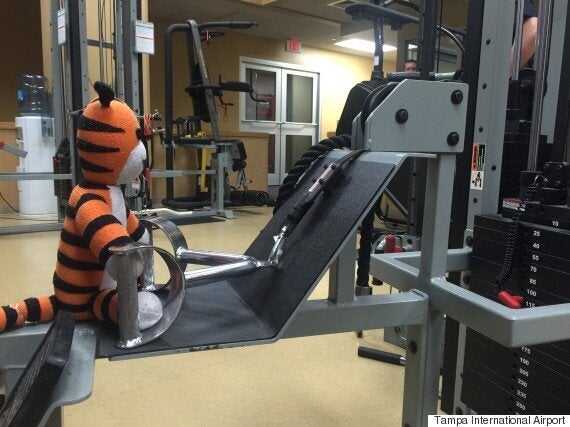 Hobbes even had some time for weights. Credit: Tampa International Airport
"Hope my fur is non-flammable! Guess we'll find out." Credit: Facebook
"How do they keep these planes so shiny and clean?" Credit: Facebook
D'Aiuto created a storyline to stitch the pictures together. He also used a coupon code he had to make a hardbound photo book of Hobbes' adventures.
After picking up the photobook from Walgreens, he left it at lost and found, ready for Owen's family to pick it up days later.
"The family flew back from Houston very late at night and they were exhausted, but when the mother and Owen were surprised with the book of Hobbes' adventures," communications manager Emily Nipps told The Huffington Post Canada.
She added that Lake cried when her son was presented with the book. As for Owen, he "seemed sort of bewildered."
"A lot of our police and operations staff who were here that late came to the lobby to see the little boy's face. It was very touching for everyone here as well," Nipps said.
Owen and Hobbes, reunited at last! Credit: Facebook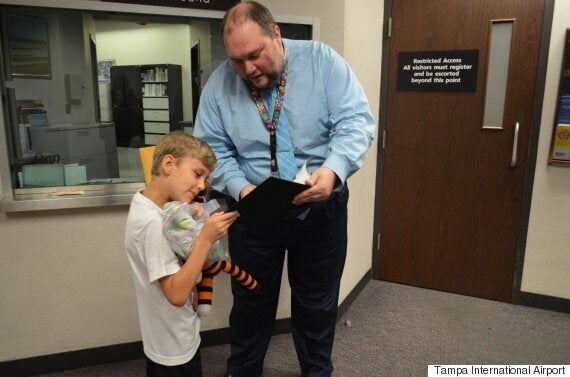 Owen looks at the photobook of Hobbes' epic adventure. Credit: Tampa International Airport
Owen's mother, who had spent the last five days repeatedly reassuring her son that Hobbes was enjoying a trip of his own, called the gesture "very, very sweet" in a news release.
She added that it was a relief to discover airport staff had been true to their words, that "Hobbes really had been on an adventure."
"It was such a nice surprise," she said.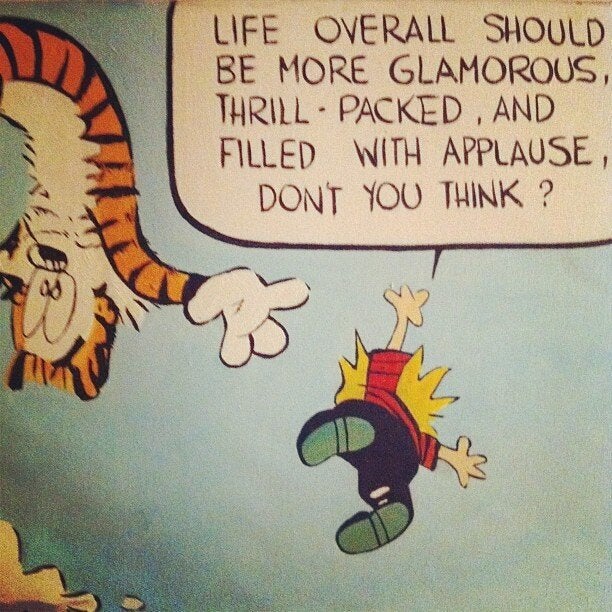 Wise Words From Calvin And Hobbes