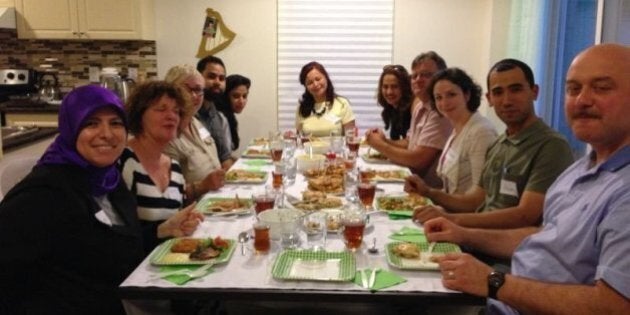 Ahmadiyya Muslim Jama`at Canada is launching a national campaign this week dubbed "Fast with a Muslim Friend" to encourage non-Muslim Canadians to participate in Ramadan alongside their Islamic compatriots.
In a statement, the organization said they hoped that by sharing the Ramadan experience "the community also hopes that this campaign will help remove any misconceptions about Islam, and bridge gaps that may exist amongst Canadians."
They added that the idea behind fasting for Ramadan is to "teach self-control, discipline, and inspires awareness of those who are less fortunate." Then at night, the fast is broken with the iftar dinner.
If you live in Toronto, however, you can participate in the Intercultural Dialogue Institute's "Meet Your Neighbour" program, a year-round initiative to bridge cultures across the GTA that takes on an added significance, and triples in popularity, during Ramadan.
IDI Toronto explains that Muslims try to avoid eating alone during iftar dinners and either host or are hosted by friends, relatives or neighbours. The latter includes those they haven't met yet, so you can register here at www.MeetYourNeighbour.ca to attend a family iftar dinner.
The organization will also be hosting larger public "community iftar dinners" which will take place throughout the holy month to "bring together people of various faith and ethno-cultural backgrounds and serve as a means of fostering dialogue and cross-cultural awareness."
These Ramadan iftar dinners have various themes and guest speakers while gathering politicians, academics, diplomats, media, police and religious leaders from all faiths alongside other members of the community. Click here for more information, and Ramadan Mubarak.