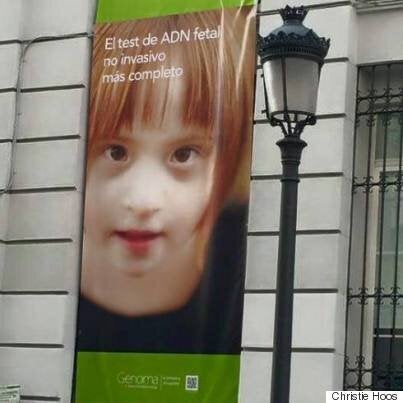 As she sat by her daughter's hospital bed, a Canadian mom was appalled to discover that an unauthorized photo of her child was used for a prenatal genetic screening ad.
Christie Hoos published a photo of her 10-year-old daugther on her blog earlier this year, when she wrote about the realities and rewards of parenting a child with Down syndrome. Rebecca Hoos, 10, has Down syndrome and is currently fighting cancer.
The beautiful photo she shared online somehow ended up on a huge banner in Spain, advertising prenatal testing kits for Down syndrome and other chromosomal disorders.
"When I saw with my own eyes... her sweet face on that ugly banner, it broke my heart. While my girl courageously fights for her life, this company questions whether she has a life worth living," she wrote. "How dare they?!"
A friend who recognized Rebecca in the ad alerted Hoos and her husband.
The banner was on display for a few hours on a Madrid building where the Swiss-based company, Genoma, was holding a medical event earlier this month, said CEO Frederic Amar. It was chosen to "convey a message of life and vitality," he explained in a letter posted to the firm's website.
Amar called the use of Rebecca's picture an "honest mistake." The company downloaded the photo from a stock image website, and nothing led them to believe that the parents had not given their permission, he said.
Hoos said while she doesn't believe Genoma was being "intentionally malicious," the multinational firm should have the resources to properly check a publicity photo, "particularly one of an innocent child being used in such a controversial way."
She added that it appears the free stock photo website, based in Germany, has been shut down.
The Hoos family is consulting a lawyer.
Hoos said her first reaction was to delete all her social media accounts and hide in her house, but she's changed her mind.
"We will not flinch. We will not hide. My daughter is beautiful and her life is worth celebrating," she wrote.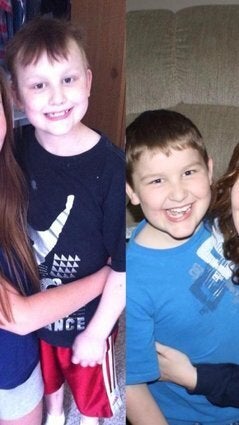 This Is What Pediatric Cancer Looks Like