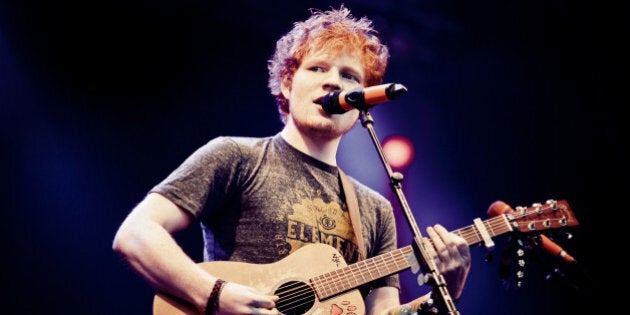 SASKATOON - British pop star Ed Sheeran is making a big impression during a tour of the Prairies this week.
First he surprised a young fan in Edmonton by interrupting a shopping trip to West Edmonton Mall to join her onstage while she was singing one of his songs.
And now he's helped a Saskatoon couple facing a difficult time find some joy by helping them to become engaged.
Pablo Benitez tells radio station CKOM his girlfriend, Tanya Prochshyn, is battling brain cancer and was recovering Wednesday after having surgery to remove a portion of a tumour.
Benitez told his story to Sheeran at a private function, and the singer promised to sing Prochshyn's favourite song, "Thinking Out Loud," at his concert in the city on Tuesday.
When the song began, Benitez got down on one knee and asked Prochshyn to be his wife, and to the thrill of the crowd and a smiling Sheeran, she said yes.
"He took the time to put me on his list," said Benitez. "He took care of it all. I just had to show up and keep to my word, which I did.
"I can't explain how awesome it was and I have to thank Ed Sheeran for that."
Hours after the couple's story got out, people started offering to help the couple with wedding plans.
Benitez's sister Laudita said the support of people in Saskatoon has been amazing.
Prochshyn and her family were told of her diagnosis three weeks ago, despite the fact the tumour had been growing for eight years.
"She's getting some of it removed," said Laudita. "They can't remove all of it because it's lodged into her brain. This way they'll extend her life if chemo and everything goes well."
On Sunday, Grade 8 student Sydney Bourbeau was halfway through covering the same song at West Edmonton Mall when Sheeran, who just happened to be at a nearby music store, hopped on stage and helped her.
The 13-year-old was performing at the mall as part of a concert to mark the end of a fundraiser for the Edmonton Humane Society hosted by her music school Resonate.
She said the encounter, which has been widely posted on social media, made her pretty popular at school the next day.