It's about time!
Cara Delevingne graces the July 2015 cover of Vogue, marking her first solo cover for the glossy.
In the photograph shot by Patrick Demarchelier, the 22-year-old British model and actress wears a maroon Prada dress, adorned with two colourful and embellished brooches. Her brunette, wind-blown locks are left down and worn to one side, while her beauty look is kept fresh and simple: pink eyeshadow, a touch of blush, rosy lips and of course, perfectly groomed brows. An ear cuff adds a finishing touch (and some Cara-esque edge) to the pretty, streamlined look.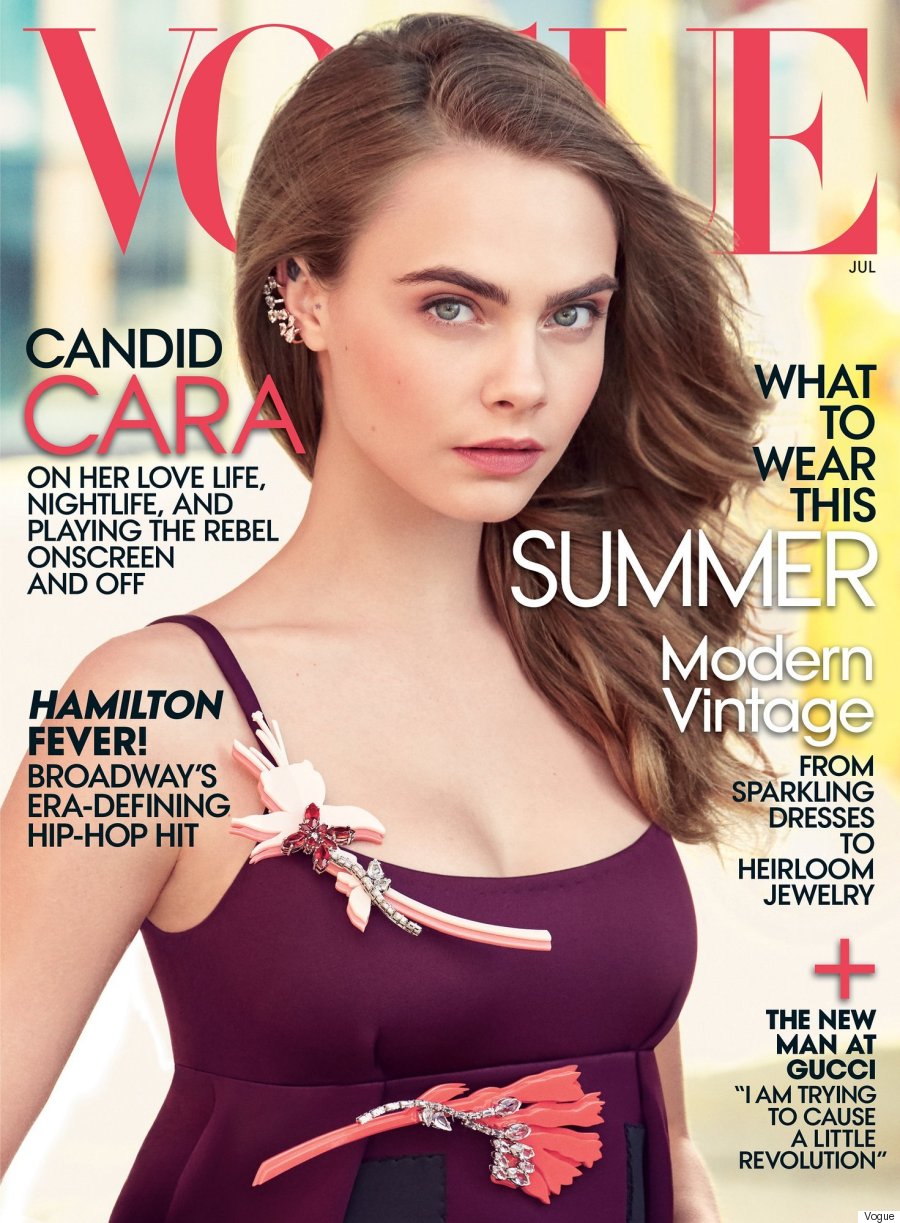 In the magazine, the "Paper Towns" star opens up about why modelling "just isn't enough" (Delevingne reportedly left her modelling agency Storm Model Management earlier this month in order to focus on her acting career).
"The thrill of acting is making a character real. Modeling is the opposite of real. It's being fake in front of the camera," she tells Vogue.
She also talks about dealing with depression, anxiety and self-hatred as a child.
"This is something I haven't been open about, but it's a huge part of who I am," she says. "All of a sudden I was hit with a massive wave of depression and anxiety and self-hatred, where the feelings were so painful that I would slam my head against a tree to try to knock myself out. I never cut, but I'd scratch myself to the point of bleeding. I just wanted to dematerialize and have someone sweep me away."
As for her love life and sexuality, she reveals to the mag that she felt confused as a child and the "possibility of being gay frightened her."
"It took me a long time to accept the idea, until I first fell in love with a girl at 20 and recognized that I had to accept it," she explains. "But I have erotic dreams only about men. I had one two nights ago where I went up to a guy in the back of a VW minivan, with a bunch of his friends around him, and pretty much jumped him."
She does give credit to her current girlfriend, Annie Clark (a.k.a St. Vincent), for helping her accept herself. "I think that being in love with my girlfriend is a big part of why I'm feeling so happy with who I am these days. And for those words to come out of my mouth is actually a miracle."
Head to Vogue.com to read the full interview, and pick up your copy on newsstands June 23rd.
Follow Huffington Post Canada Style on Pinterest, Facebook and Twitter!
Also on HuffPost