A Vancouver student is left with thousands of dollars in vet bills after her Yorkshire terrier was attacked by another dog Wednesday night.
Bahara Rahimi was walking her dog, Lily, on-leash near Emery Barnes Dog Park when the pair came across an owner with a large Airedale terrier. The man warned Rahimi that his dog could be aggressive, but said he was bringing the animal out for a walk so it could learn to socialize.
The off-leash Airedale, however, got away from its owner and attacked Lily, biting her around the stomach and dragging her away.
The Yorkie suffered fractured ribs, damage to her diaphragm and was nearly disemboweled, Canada West Veterinary Specialists (CWVS) said in an email to HuffPost B.C. She is expected to survive, but surgery to save her life cost more than $10,000.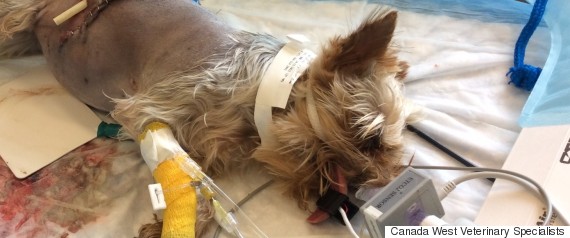 CWVS offered to cover half of the cost of the surgery, but Rahimi is still on the hook for the remaining $5,000 — which may have to come out of her tuition money, according to the clinic.
The student has started a GoFundMe page to try to cover the cost.
As for the airedale terrier's owner, the city's animal control office told CTV News that he identified himself a city visitor named Linn Emery before he left the park.
The office said it has tried to reach the man since, but hasn't made contact, according to the outlet.
Like Us On Facebook

Follow Us On Twitter

Follow Us On Instagram
ALSO ON HUFFPOST:
Animal Cruelty Cases In B.C.