Isabel Marant has found herself facing accusations of plagiarism yet again.
A group of women from the indigenous Mixe community in Santa Maria Tlahuitoltepec in Oaxaca, Mexico have requested that the French designer remove a dress from her Étoile collection that looks identical to their traditional dress.
The embroidered pattern on Marant's "Viola embroidered cotton-muslin dress" bears an uncanny resemblance to the one featured on the traditional Tlahuitoltepec blouse, which has been designed, handmade, worn and sold in the community for more than 600 years.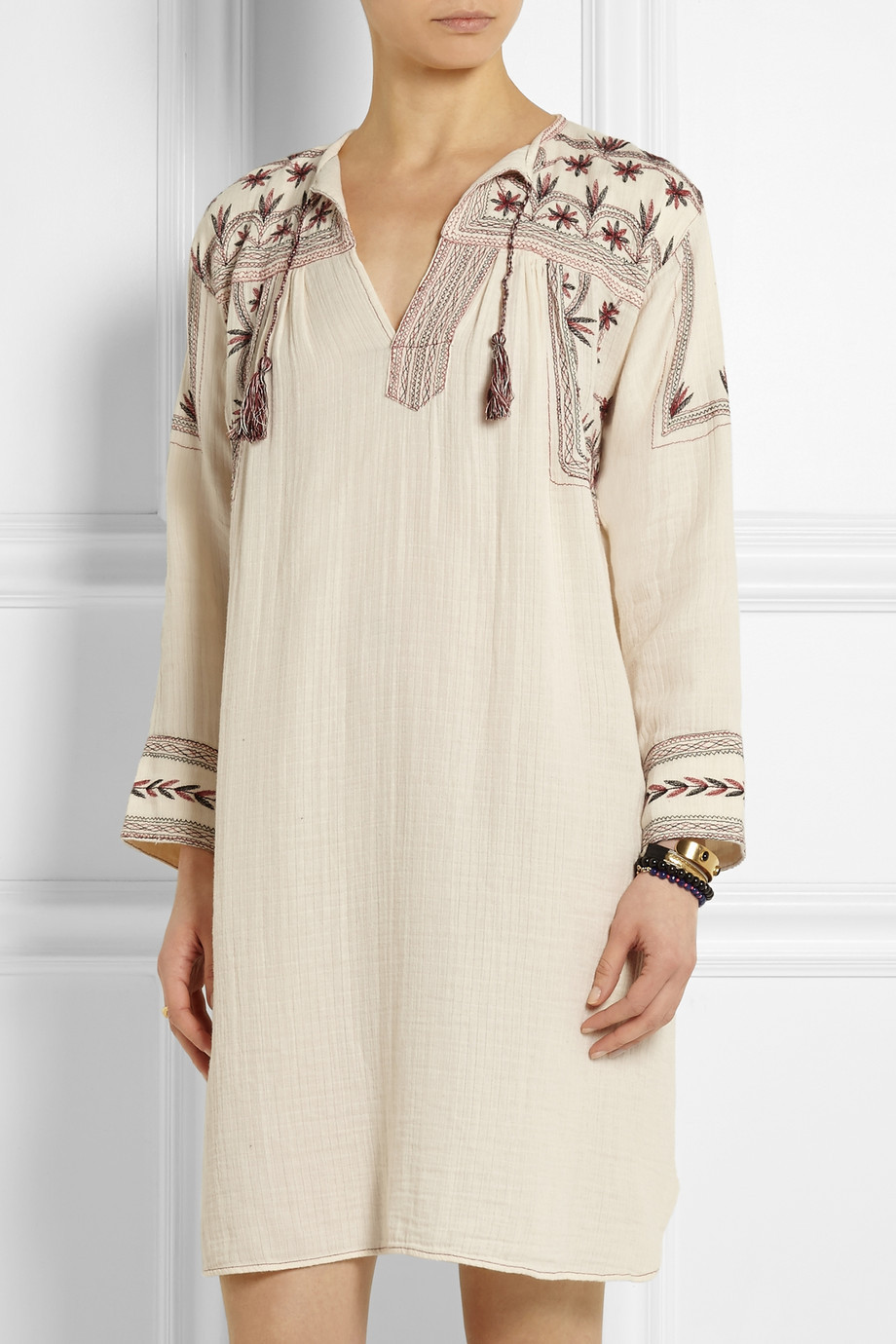 "Isabel Marant is committing a plagiarism because the Étoile spring/summer 2015 collection contains the graphical elements specific to the Tlahuitoltepec blouse, a design which has transcended borders, and is not a novel creation as is affirmed by the designer," the group said in a press conference last week.
According to the Guardian, the community is asking the designer for reparations, and they are considering legal action. They have also invited Marant to visit their community in Oaxaca in southern Mexico, so that she can meet the women who design and make the blouse.
Inspiration or plagiarism? Mexicans seek reparations for French designer's look-alike blouse http://t.co/26Uzbi46yj pic.twitter.com/Nz3B433O8D

— Development Pros (@GuardianGDP) June 18, 2015
When the Guardian contacted the French design house in Paris for comment on the accusations from Mexico, it was informed that the designer is already in the midst of another legal quarrel over the dress. As it turns out, the design label Antik Batik is also claiming the rights to the design.
The office said Marant has told the courts that the design does, in fact, come from the Tlahuitoltepec community.
"Before the district court of Paris, Isabel Marant is fighting to set the record straight: she has presented submissions which expressly point out that these designs come from the village of Santa Maria Tlahuitoltepec in the province of Oaxaca, in Mexico," the office said in the statement. "Moreover, Ms Isabel Marant, after tracing the true origin of these clothes, officially informed the court: 'For her part, Ms Isabel Marant does not claim to be the author of this tunic and these designs.'"
This isn't the first time Marant has faced plagiarism accusations. Earlier this year, it was pointed out that her Bart sneakers looked suspiciously similar to Adidas's Stan Smith sneakers.
Follow Huffington Post Canada Style on Pinterest, Facebook and Twitter!
Also on HuffPost
Craziest Fashion Controversies & Feuds