Noel Hendrickson via Getty Images
OTTAWA - The annual pace of inflation in Canada edged higher in May as lower energy prices were more than offset by other increases including higher prices for food.
Statistics Canada said Friday the consumer price index for May was up 0.9 per cent from a year ago following a 0.8 per cent increase in April.
Economists had expected an increase of 0.8 per cent for the most recent month, according to Thomson Reuters.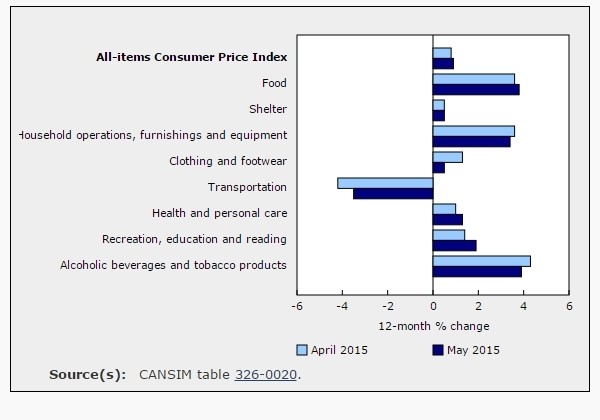 Energy prices were down 11.8 per cent from a year ago led by a 17.4 per cent drop in gasoline prices. Natural gas fell 14.4 per cent and fuel oil dropped 18.6 per cent. Excluding energy prices, the consumer price index for May was up 2.2 per cent from a year ago.
Prices were up in seven of the eight major components with the increase led by a 3.8-per-cent jump in food prices from a year earlier. The transportation component, which includes gasoline, was lower.
Read more: This Chart Will Make You Seriously Suspect You're Getting Ripped Off At The Pump
The Bank of Canada's core index, which excludes some of the most volatile items, was up 2.2 per cent in May. Economists had expected a gain of 2.1 per per cent.
The main drivers for the increase in the annual rate was a 7.9 per cent increase in meat prices while food bought in restaurants increased 2.9 per cent. Telephone services increased 5.2 per cent and passenger vehicles gained 1.8 per cent.
Home and mortgage insurance increased 8.3 per cent.
Prices were up from a year ago in nine provinces as Saskatchewan posted the largest increase with a gain of 1.5 per cent. Prince Edward Island posted its sixth consecutive year-over-year decrease.
On a seasonally adjusted monthly basis, the consumer price index increased 0.4 per cent in May following a 0.1 per cent decrease in April.
The inflation report came as Statistics Canada also reported that retail sales in April dropped 0.1 per cent to $42.5 billion following gains in February and March.
Economists had expected an increase of 0.7 per cent.
Sales were down in four of 11 subsectors tracked by Statistics Canada, while in volume terms, sales were down 0.2 per cent.
Retail sales were down in five provinces with Alberta posting the largest drop in dollar terms.
Also on HuffPost:
Food Prices In Attawapiskat