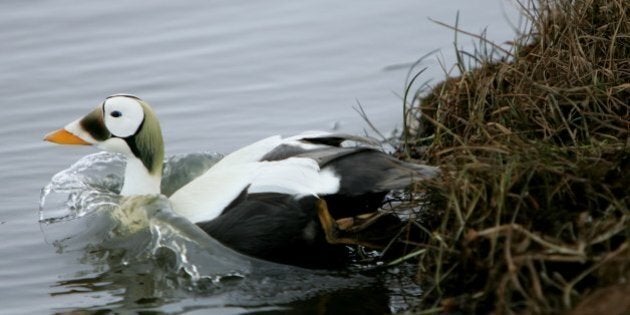 SANIKILUAQ, Nunavut - Inuit in a tiny Nunavut community are hoping the whirling flocks of thousands of seabirds that have filled larders for centuries will fill their wallets through one of the world's rarest and most precious commodities — eiderdown.
After being shuttered for nearly a decade, Sanikiluaq's eider factory started buying eiderdown this month, sustainably collected by Inuit families from the tens of thousands of nests built by the birds nearby.
"It will be a big deal," said Darryl Dibblee, administrator for the hamlet on Flaherty Island in the southeast corner of Hudson Bay. "We've already had a fair influx of people selling us down."
While the community hopes for long-term sustainable jobs, it's also eyeing changes to the water the birds need. Hunters are tracking the shifting ice and sea conditions as hydro projects from Quebec pour vast and increasing amounts of fresh water into the ocean.
Eiderdown comes from eider ducks, large seabirds that nest in huge numbers in the Belcher Islands. The hen plucks the down from her breast to protect her nest and the eggs.
Collectors take down before the eggs have hatched and take care to leave half the fluff. The down goes to the factory, where it is cleaned and sterilized and sewn into parkas and duvets.
A single nest can produce about 70 grams of eiderdown, the warmest and most durable insulation in the world. That sounds like a lot, but average annual worldwide production of eiderdown — most of which now comes from Iceland — is estimated at four tonnes, or about what it would take to fill a cube van.
Uncleaned down sells for about $330 a kilogram. Finished duvets cost up to $10,000.
Sanikiluaq plans to sell cleaned down to European manufacturers as well as parkas and duvets, sewn by local women, through the community-owned corporation Belcher Islands Designs.
A feasibility study suggests the plant will break even by the second year and produce almost $200,000 in profit by the third. Dibblee said it'll provide up to 15 jobs.
"That's a big deal in a town of 850 people."
It's a business rooted in traditional skills and practices, said Joel Heath, a Canadian scientist who's been studying the ducks and their importance to local culture for years.
"How do they use their skills to come up with jobs that are meaningful to them? The eiderdown factory is a great example of that."
Heath has completed an award-winning documentary called "People of a Feather" about the relationship Sanikiluaq has with the ducks, which have long provided food and clothing. The film also traces changes to the environment the ducks depend on.
Vast hydro reservoirs in Quebec are storing freshwater that used to pour into the bay in spring and releasing it instead in the winter to generate power for southern cities. Heath has found a layer of freshwater 25 metres deep all along Hudson Bay's eastern coast.
Ice forms much earlier in the fall, because freshwater freezes more quickly. Large flocks of ducks can get trapped on shrinking pools of open water.
Heath has brought together people from five communities to monitor the changes in ice cover and animal use. Using technology provided by Google Maps, the monitors can share information in real time all along the coast.
That's not only useful for hunters, it's increasingly critical for anyone who wants to travel on the sea ice.
"Having long-term jobs for Inuit, working together to try and understand what's happening in Hudson Bay ... the idea is, in the long term, (southerners) don't need to be there," Heath said. "The communities have enough knowledge to run the programs themselves."
For now, Dibblee just wants to get the factory through its pilot year.
Buyers for the down are lining up, waiting to judge the quality. The down sterilizers and eight industrial sewing machines have been imported into the community.
He's confident that the down that insulates eider chicks will help the Inuit feather their own nests.
"I wasn't going to do this unless I knew, long term, it was going to be feasible."
— By Bob Weber in Edmonton. Follow him on Twitter at @row1960