A humpback whale is swimming freely in B.C. waters once again after getting tangled in rope for more than 24 hours, and requiring a life-saving rescue from fisheries officials.
Boaters came across the young whale Sunday night just off the coast of Powell River. The animal — almost 11 metres (35 feet) long —was anchored to the sea floor, wrapped in ropes from prawn traps. (Watch video above.)
Things weren't looking good for the humpback when officials arrived several hours later.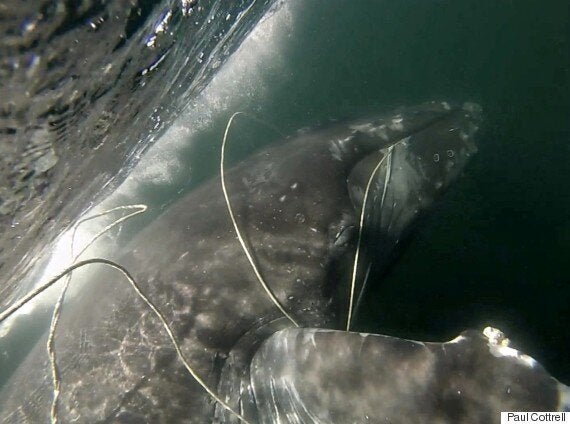 "This animal was in dire straits," said Paul Cottrell, who co-ordinates the B.C. Marine Animal Response Network for the Department of Fisheries and Oceans. "It was at the surface, kind of bent into a U-shape, with only its back sticking out of the water."
Cottrell, who has rescued over 20 entangled whales, had never seen one in such bad shape.
"The tail had tremendous amount of tension being pulled by rope," Cottrell told HuffPost B.C. "There were lines all over the body and three lines through the mouth."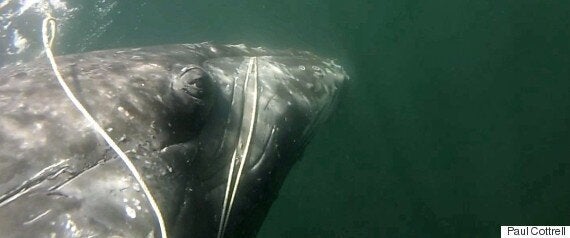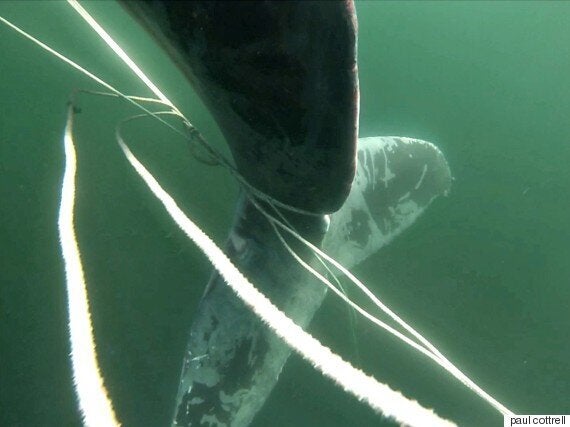 A trained team of coast guard and local fisheries officials set to work, using knives to cut the lines off the whale. They started with the rope laced through the animal's mouth, then moved to free its massive tail.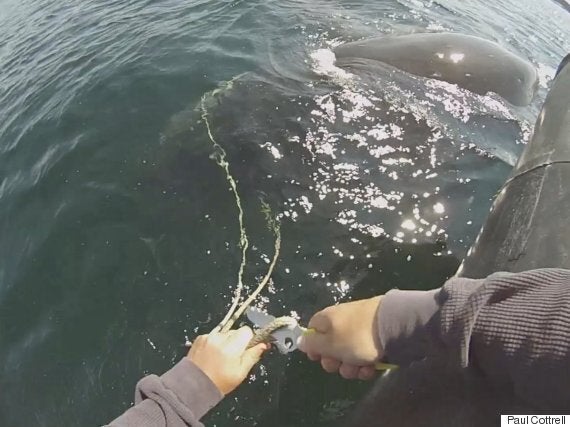 After hours of work by the team, the whale came free and was able to swim away.
"We were so relieved. It was just amazing experience," Cottrell said. "Knowing that that animal is gear-free and it'll be fine going forward — we are overjoyed."
Aside from superficial injuries from the rope cutting into its skin, the whale should be completely fine, said Cottrell.
He added that the boaters made the right decision by calling for help, rather than trying to free the humpback themselves.
"If the public sees any gear on whales, we ask that they please not engage," Cottrell explained. "It's dangerous. If the [people] cut the rope in the wrong places, the whale could be freed, but with gear still attached — and that's a life sentence."
Cottrell advises that anyone who sees a marine animal in distress should immediately call officials at 1 800-465-4336, and give the creature its space until help arrives.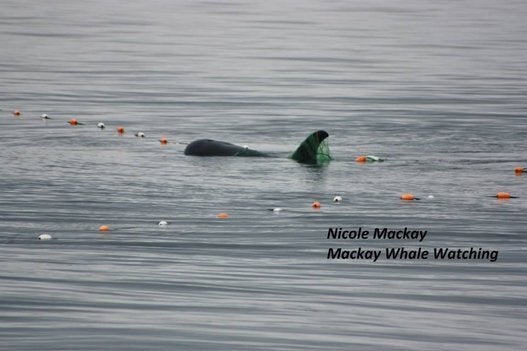 B.C. Killer Whale Caught In Fisherman's Net