Cara Delevingne made headlines last week for receiving her first solo Vogue cover and for her candid interview with the magazine.
In the profile, featured in the glossy's July 2015 issue, the 22-year-old model and actress opened up to writer Rob Haskell about her mother's heroin addiction, her experience with mental illness, her sexual orientation and her loving relationship with musician Annie Clark, better known as St. Vincent.
But the magazine is now facing backlash from readers for the way the profile depicted Delevingne's relationships with women. Over 13,000 people have signed a petition on Care2 titled, "Tell Vogue Magazine: "Being LGBT Isn't A Phase!" The petition is directed at the magazine's editor-in-Chief, Anna Wintour.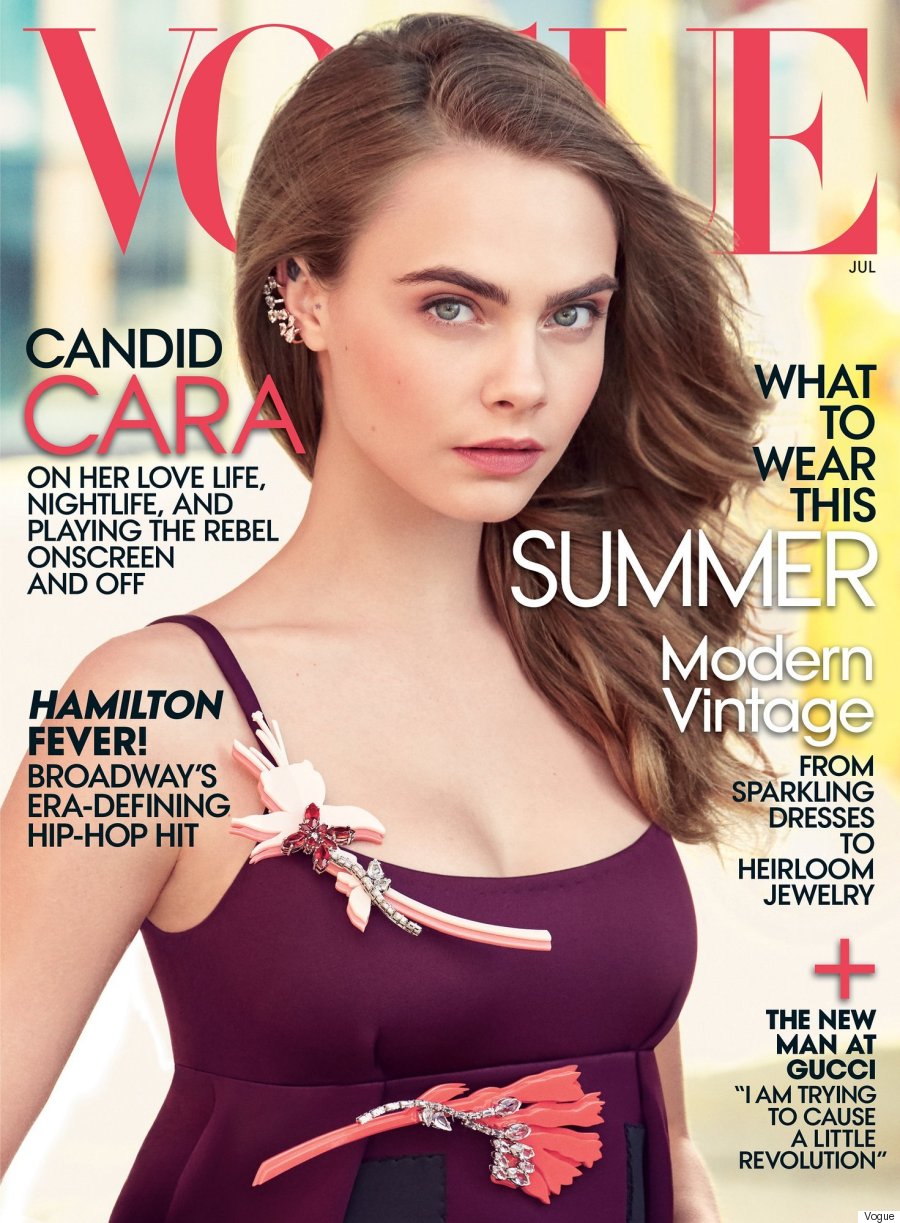 The creator of the petition, Julie Rodriguez, and its signers are requesting that the magazine issue an apology for insinuating that Delevingne's interest in women is just a phase and the result of her troubled relationship with her mother. In the profile, after the "Paper Towns" star discussed coming to terms with her sexuality, Haskell wrote: "Her parents seem to think girls are just a phase for Cara, and they may be correct."
And after Delevingne explained that she would marry and have children with a man if she found one she could love, Haskell wrote: "When I suggest to Cara that to trust a man, she might have to revise an old and stubborn idea of hers -- that women are perennially troubled and therefore only women will accept her -- her smile says she concedes the point."
"The idea that queer women only form relationships with other women as a result of childhood trauma is a harmful (and false) stereotype that lesbian and bisexual women have been combating for decades," Rodriguez wrote on the online petition.
"As a bisexual woman myself, I've experienced hurtful comments like this many times," she continued. "People are quick to assume queer women's identities are a 'phase' and to refuse to recognize the important relationships in their lives. Vogue should have taken this opportunity to combat negative stereotypes, not reinforce them."
People from across the world have signed the petition, many leaving comments that echo Rodriguez's outrage over the profile, calling it offensive, demeaning, insensitive and homophobic.
"As a clinical psychologist working primarily within the LGBT community I find your piece on Ms. Delevingne quite misleading. Your writer clearly needs to be educated on LGBT issues," Martha Webb wrote.
"I'm a bisexual woman who's been out of the closet since 1994. I'm pretty sure it's not a phase. Instead of opting to have a teachable moment in how we discuss LGBTQ individuals, Vogue decided to completely deride and devalue Cara and other bisexuals. Shame on you!" Leah Crenshaw-Pepke commented.
Vogue and Delevingne have yet to comment on the petition.
Follow Huffington Post Canada Style on Pinterest, Facebook and Twitter!
Also on HuffPost